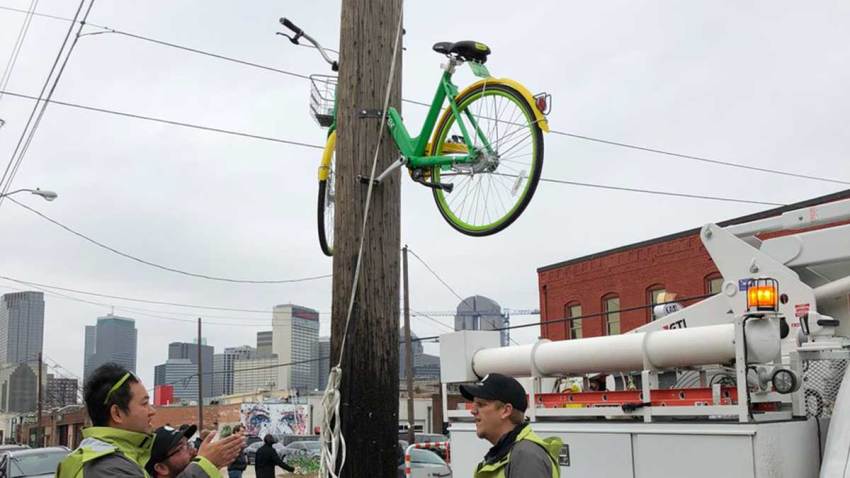 Bikeshare provider LimeBike says they are proud to serve the people and city of Dallas -- even after someone sawed one of their bikes in half and bolted it to a telephone pole overnight Thursday.
Via Twitter, the company said Friday they had sent operational leads to Deep Ellum to retrieve the bike.
The company credited local utility services for assisting in the removal before saying they were proud to be offering their bikesharing services in Dallas.
In the months since five bikeshare companies showed up in Dallas last year there have been numerous reports of customers abandoning the bicycles in unsightly positions — in the Trinity River, up in a tree, in an Oak Cliff lake.
Many of the bike companies allow customers to simply leave the bikes at their destination -- with the promise that they'll send a team to retrieve the bike.
Local
The latest news from around North Texas.
It's not clear who put destroyed the bike and mounted it to the pole, or whether it was done as an art installation or out of frustration. This is the first report we're aware of where one of the estimated 20,000 rentable bikes had been cut in half and mounted to a pole.
Dallas City Manager TC Broadnax on Friday sent the companies a letter asking them to clean up their mess or that the city would start removing the bicycles and placing them at a central location for retrieval by the companies.
In his letter, Broadnax did not say if the city would impose a fine on the companies for recovering the abandoned bicycles.