A convenience store clerk in Lewisville was shot to death during an armed robbery early Friday morning, police say.[[505885401,R]]

Officers were called to a reported shooting at the Valero gas station on the 300 block of East Corporate Drive at about 12:20 a.m. According to police, a customer interrupted a robbery and found Ashraf Lakhani lying on the floor with a gunshot wound. She was taken to Medical City Plano where she died from her injuries.
Abedin Mawani, a clerk who works at the store, told NBC 5 Friday morning that the woman was counting money away from the counter when the armed robbers entered the store. The clerk said one of the men shot the woman and then ran off with $217.
"It's a very hard moment for us right now you know," he said.
Lakhani, a wife and newlywed, is the second person killed on the same block in the last two and a half months, something Mawani said he's fearful about.
"We're scared you know. That's all I want to say. We're scared you know. We have to be more alert now you know," he said.
Friends and customers who learned the news about Lakhani on Friday, described her as a nice, bubbly, hardworker. Mawani said she had only been working at Valero for about six months.
No arrests have been made and police have not released a detailed description of the armed robbers, though they did share a photo taken from surveillance video. If anyone recognizes the man in the photo below, or his clothing, their asked to contact the Lewisville Police Department.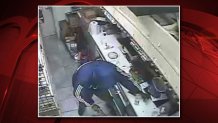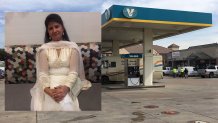 In November 2018, Suresh "Sam" Shah, the owner of a liquor store in the shopping center next to the Valero gas station, was shot and killed during an armed robbery in the parking lot. Police have not made any arrests in his slaying.

"My family is still shattered so I don't even know how to collect pieces completely yet," said Bina Shah, his wife.

Shah said her husband knew Lakhani well saying the clerk even offered condolences when he passed away.

"I don't even know what to think at this point. I'm just taken back," Shah said.

The Lewisville Police Department said so far, they have no evidence the two killings are linked, despite the close proximity in location.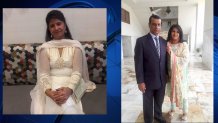 No further information was immediately available. Check back for updates on this developing story.