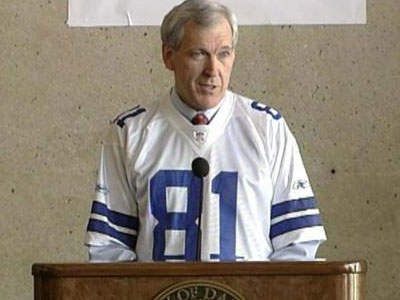 Last week, Dallas Mayor Pro Tem Dwaine Caraway gave a "key to the city" to NFL player Michael Vick.
The action spawned outrage from many North Texans (including our Facebook fans) and lead to Mayor Tom Leppert releasing the following statement on Monday afternoon:
The action taken was not sanctioned by my office and was not an official ceremonial honor on behalf of the City of Dallas. Official Keys to the City are presented by the Mayor, or an elected official designated by the Mayor, and reserved, on a limited basis, for an elected official of international status. Clearly, this was not the case in this situation and done without my knowledge or approval.

Given these circumstances I have requested the City Manager propose guidelines to prevent this situation in the future.
Local
The latest news from around North Texas.
Caraway also released a statement in conjunction with Leppert, saying:
Under current guidelines, Council members are given the opportunity to present a ceremonial key to the city to national celebrities, including sports figures. These ceremonial gifts are different from the official keys to the city presented by the Mayor. Since making some bad choices, Michael Vick has devoted time to speaking to children about staying in school, staying away from drugs, making positive choices about picking friends, and the importance of education. That was the focus of the event. I have also devoted a lot of my time to helping teenagers by hosting more than a dozen teen summits at City Hall – all with positive themes - to make sure our youth get on a path to success and prosperity. For those reasons, Michael Vick deserves such an action from my office.

I care deeply about animals. I fully support our new initiative "Dallas Loves Animals" campaign. I have two dogs of my own and I am deeply sorry to offend anyone who loves animals.

I welcome a clarification of the guidelines regarding ceremonial keys to the city.
Read our previous posting on this story here: Caraway Presents Vick with Key to City