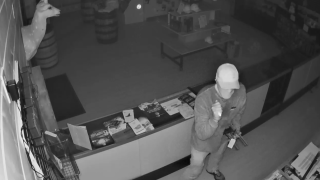 Law enforcement officials are looking for a man suspected of stealing 21 firearms from a business in Denton County that happened in September.
On Tuesday, Sept. 14 at around 2:09 a.m., a man was seen entering a business located at 1880 FM 156 in Krum.
Surveillance video shows the man breaking in through a rear door and then stealing 21 firearms from a display case.
The man was seen wearing a baseball-type cap, eyeglasses, a face covering and distinctive tennis shoes. He is described as having on a long sleeve shirt with a lightning bolt and the letters 'LTR' on it.
"Recovering these firearms quickly before additional crimes are committed remains a top priority for ATF. We are asking the public to please let authorities know if you recognize this individual," said ATF Dallas Special Agent in Charge Jeffrey C Boshek II.
The Bureau of Alcohol, Tobacco, Firearms and Explosives, Denton County Sheriff's Department, and the National Shooting Sports Foundation (NSSF), is offering a reward of up to $10,000 for information leading to the identification and/or arrest of the person responsible.
Anyone with any information about this crime should contact ATF at 1-888-ATF-TIPS.
Local
The latest news from around North Texas.
Information can also be sent to ATFTips@atf.gov, through the ATF's website.