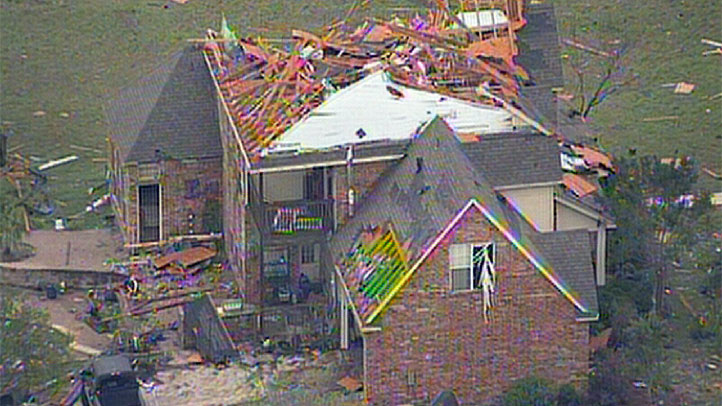 Injuries are reported in Cleburne, where a mile-wide tornado was reported Wednesday night, NBC 5's Omar Villafranca reported.
Downed trees and power outages were also reported in Cleburne, which was declared a disaster area early Thursday morning.
City officials said most of Cleburne was without power as of 3 a.m. The water plant in the city is running on emergency power, City Manager Rick Holden said.
Local
The latest news from around North Texas.
The plant is running at full capacity.
Damage was reported at Gerard Elementary School and Smith Middle School, but the extent of the damage was not immediately known. Wheat Middle School and Cleburne High School have also reportedly sustained water damage. State troopers cordoned off part of the area near the school.
School district officials have canceled school for all campuses on Thursday.
Homes near the school were damaged, Villafranca reported, but no solid numbers were available early Thursday morning.
Gas drilling wells near the area around Gerard Elementary School were damaged in the storm, Holden said. Chesapeake Energy, which operates the wells, arrived to secure the facilities.
A Johnson County constable confirmed that there were injuries. Ambulances were spotted leaving the area.
Storm spotters reported seeing a mile-wide tornado five miles northwest of Rio Vista at 9:19 p.m.
Heavy damage was reported in Cleburne a short time later, but it was unclear what had caused the damage. In addition to the tornado, Cleburne also also saw heavy winds of 75 mph to 85 mph winds.
Keaton Taylor, the assistant manager of a Home Depot in Cleburne, said there is a lot of damage in the area. The store is staying open all night for people who need supplies or shelter.
There were also reports of another tornado in Hood County at about the same time.
Another tornado hit the small town of Millsap, about 40 miles west of Fort Worth. Parker County Judge Mark Kelley said roof damage was reported to several houses and a barn was destroyed, but no injuries were reported.
Hail up to the size of grapefruit pelted the area around Mineral Wells on Wednesday evening, but police dispatcher reported only minor damage.