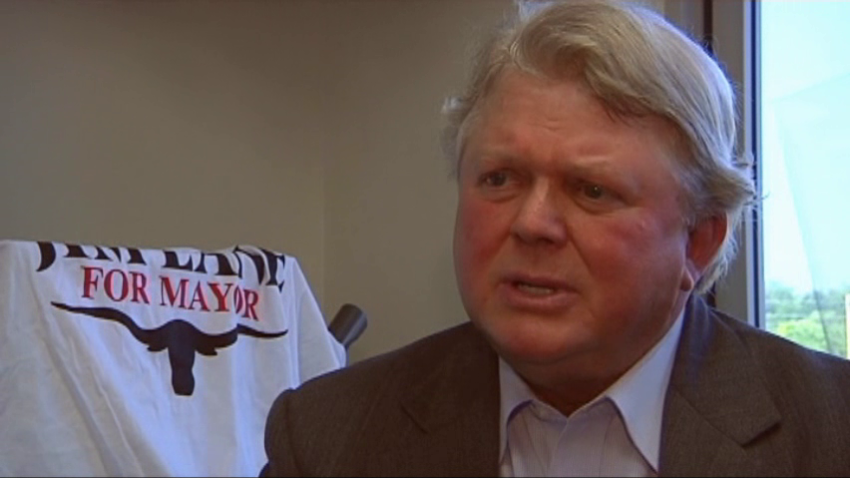 Jim Lane is another familiar name in the Fort Worth mayor's race. The former city councilman has remained active, serving on the Tarrant County Regional Water District Board and is also the president of the Fort Worth Sports Authority. Lane is also a practicing attorney, who has a unique perspective to a wide range of issues.
"I'm the only guy drawing social security with a four-year-old," Lane said. "Trying to figure out whether I want him to go to a public school or private school, and I made that decision. I want him in public school. And I want to be involved and do something about that."
Education is not under the city's jurisdiction, but Lane would like to see a return to what was done back when he was on the council.
Local
The latest news from around North Texas.
"We started working with the school board, meeting with the school board, we came up with after-school programs," Lane said. He'd like to see some of those programs returned to where they once were.

Lane is also concerned about what the city will be like in the future for his son Jake and believes while all the candidates are smart folks, his experience gives him a leg up.
"I understand what the job is, I think I can do it better than any of the other candidates," Lane said. He says there is no "on the job training" and that whomever is elected "better know what they're doing."
On the main issues, Lane believes public safety is first and foremost when it comes to gas drilling and that the June air quality report will give the council guidance on where to go from here.
"You know we're the first major city that's really dealt with this, so it's a learning process," he said. "I think we're going to have to revisit our ordinance."
Lane, who has support of the police and fire unions, says those groups must contribute toward their pensions as the city must deal with the $700 million unfunded liability
"If they want to continue the benefit level for their new hires, they're going to have to pay for it and they both agreed that they understand that," Lane said. "I think the people of Fort Worth have put in all they need to."
And when it comes to the budget, he thinks audits, scrubbing inefficient programs and openness are the way to go.
"We can put every check the City of Fort Worth writes up on the Web and you can see what the mayor's expense report is," he said.
Lane believes the city must refocus its budget and that officials need to start thinking outside the box.
"If we keep doing what we've been doing, we're going to keep getting what we got, it's a simple proposition right there," Lane said.

---
We are just a few weeks from election day and the Fort Worth mayor's race. Throughout the week we'll introduce you to the five candidates vying to lead the second largest city in North Texas and where they stand on issues like the budget, air quality and education.
Previous interviews:
Dan Barrett | Cathy Hirt | Jim Lane | Betsy Price |Nick Zebrun