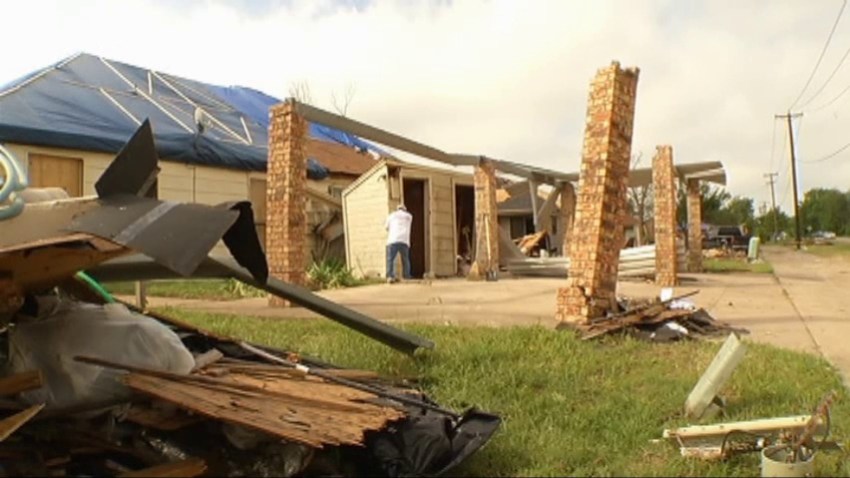 Like many residents in Lancaster, Renee Greer is now left picking up the pieces after a tornado swept through her neighborhood.
"It's pretty devastating just looking at it, it looks good now compared to the way it looked when I first got here glass, all the windows out, carport gone, tree gone," said Greer.
The twister hit this Dallas County community particularly hard, In video taken on Tuesday you can see the severe damage, homes knocked down, carports destroyed.
Local
The latest news from around North Texas.
A painted "X" marks the spot of homes that remain inhabitable. Residents are not allowed to return other than to gather few salvageable items.
Gwen Dabbs lives near Greer and says her home was also damaged. Unlike Greer, who was at work when the storms hit, she describes what she felt when the tornado swept through her neighborhood.
"I was scared to death," said Dabbs.
Taking cover on the floor and covering herself with covers and pillows she said she Thanks God she survived, and feels now its time to get to work and clean-up.
And roofers are busy repairing roofs, many organizations like Operation Blessing offering a blessing by helping to rake yards and clean-up debris for free.
And their efforts are paying off, both women say the neighborhood is once again looking like their old neighborhood.
"So now it's even more bearable to see than it was then and the shock is wearing down," said Dabbs.
"It's no words to describe people that don't even know you that will come in and clean your place like its there's, there here just doing everything they can and it just make same feel so good," said Greer.