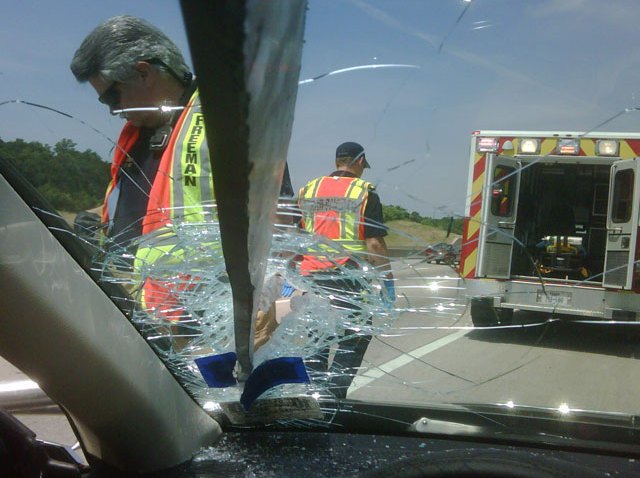 U.S. Trade Ambassador and former Dallas Mayor Ron Kirk is still recovering from a frightening accident.
Kirk was on I-30 near the Belt Line exit early Wednesday afternoon when he hit a metal ladder lying on the highway. He said he swerved to avoid it but couldn't, the ladder went flying, hit the median, and then bounced back up in the air, and finally smashed through his windshield.
"It was surreal, I saw a ladder flying through the air aimed straight at my head, and the next thing I remember there was blood gushing out of my arm," said Kirk.
Local
The latest news from around North Texas.
Thursday, Kirk said 911 had already received several calls about the ladder lying in the road and that's why police were close enough that it didn't take long to reach him.
Grand Prairie investigators said a vehicle had dropped the ladder onto the freeway. A tractor-trailer traveling in front of Kirk hit the ladder, which then flew into Kirk's 2008 Mercedes Benz.
Officer Wes Bement said the ladder went through Kirk's windshield and impaled him in his left arm right above his armpit. Kirk was taken to Methodist Medical Center in Dallas.
Kirk suffered a jagged gash that ripped through his left bicep so deep it took more than 40 stitches to sew it up. He said officers on the scene told him had the ladder hit his torso, just a few inches away, it would have cracked his chest wide open.
"Mr. Kirk is very fortunate, I believe," Bement said. "If the ladder had been angled an inch in either direction, it would have either severed his arm or potentially his chest, and we could have been looking at a fatality collision out there today."
The passenger in the car with Kirk was not injured.
Kirk is in town to attend his daughter's high school graduation Wednesday night. He declined to talk about the incident at the graduation ceremony.
"It's all about my baby tonight," he said. "I am blessed. I really am."
Kirk said his daughter -- who he fondly says is a little bit of a smart aleck -- told him, "at least it hit him in the non-muscular part of his arm."
Kirk was supposed to be flying to Vietnam Thursday for a huge trade meeting. Instead, he's at his Dallas home, nursing a deep gash in his arm, after an accident that could have killed him.
"I must have an angel, it hurts like hell, but considering the alternative... I'm lucky".
Kirk said even though the ladder left a deep, ugly gash, there is no nerve or bone damage, for which he is thankful. Kirk said the biggest risk right now is infection because the cut is so deep.
Kirk will see a doctor again later this week and if he given the green light, he'll head back to Washington, he hopes by the first of the week.