Since 1907, the Texas Department of Agriculture has served to promote agriculture, economic development and consumer protection. Every four years, we elect a commissioner to head the agency.
The current commissioner is Sid Miller -- his challenger, retired Air Force Col. Kim Olson (D), is enjoying some fund-raising success.
According to the latest filings, between Jan. 1 and June 30 Olson raised $171,000. According to the Houston Chronicle, Miller raised $156,000 from January through most of February ahead of the March primary. Between Feb. 25 and June 30, incumbent Sid Miller raised $63,000, though the Chronicle reports he's also got $275,000 in outstanding loans.
Olson, from her Palo Pinto ranch on the banks of the Brazos River, said she decided to run for commissioner because she thought we needed better leadership.
"Like a lot of folks, we were kind of disappointed at, maybe, the election, and I though this nation could use some leadership," said Olson.
Olson was the director of human resources at the Dallas Independent School District and was a trustee on the Weatherford School Board. Before that she spent 25 years in the military and she believes all of those experiences will help her in government.
"I learned that if we get diversity and women around war room tables, better decisions are made, and I just would extend that to the political arena," said Olson.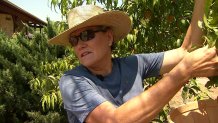 Her hopes are to have a professional office, healthy school lunches and healthy children. She wants to see the agriculture economy thrive by helping Texas farmers sustain their businesses.
Local
The latest news from around North Texas.
The campaign trail has been a busy one, forcing her to spend a lot of time away from her home, of which 60 percent is solar powered, has conservation areas as well as peach and pecan trees.
But to her, this campaign is worth the time away -- Olson plans to visit all 254 Texas counties.
"Representative government is supposed to be about representing people, and the only way you do that is you gotta walk their fields, visit their farms, and sit at their family dinner tables," said Olson.
Olson has an uphill battle against well-known Miller, but she said that's not her focus.
"I want to be the kind of candidate that runs for something, not against someone," she added.
Her focus is Texans.
"We all eat, so it really isn't a red issue or a blue issue. Feeding Texans, and making sure Texans stay healthy, is a red, white, and blue issue," she added.