During Tuesday's hearing, a panel of three Texas appeals court judges questioned arguments to overturn the conviction of a former Dallas police officer who was sentenced to prison for fatally shooting her neighbor in his apartment.
An attorney for Amber Guyger, Michael Mowla, presented his argument for why the appellate court should acquit her murder conviction. He argued that his client was entitled to 'mistake of fact' and that Guyger should have been charged with criminally negligent homicide, a lesser sentence than murder, for the 2018 deadly shooting of Botham Jean.
In 2019, a Dallas County jury found Guyger guilty of murder and she was sentenced to 10 years in prison for murder.
Guyger, 32, did not appear for the virtual court hearing that was held through Zoom and broadcast publicly on YouTube.
The panel of three from the Court of Appeals in the Fifth District of Texas in Dallas included Chief Justice Robert D. Burns III along with justices Robbie Partida-Kipness and Lana Myers.
Both Mowla and Dallas County prosecutor Douglas Gladden had 20 minutes each for their arguments.
"I think the evidence showed that she thought she was walking into her own apartment," said Mowla, who insisted that Guyger did not have "evil intent." He continued the argument that his client thought she was using self-defense in her own apartment when she was actually in Jean's apartment.
The justices questioned his argument several times during the 20 minutes.
"M. Mowla, you're overlooking the fact that Ms. Guyger testified that she intentionally shot Mr. Jean," Chief Justice Burns said.
"Yes she intended to pull the trigger, yes she intended to kill who she thought was an intruder in her home," Mowla said.
"I acknowledge that she intended to kill because that's what she testified, the question is, and her getting to that point, when she walked into the wrong apartment because of the perfect storm," Mowlad said as he described Guyger missing clues she was going to the wrong apartment such as being on the wrong floor, walking down the wrong hall, missing that there wasn't a vase there or that there was a half-moon red doormat, which was specific to Jean's apartment.
Mowla then went on to revisit a police officer who testified during the 2019 trial who stated that if he had come upon his own home and thought there was an intruder inside, he would have gone after that individual. As Mowla alluded to self-defense, one of the justices interjected to question this.
"Mr. Mowla, aren't you erroneously mixing 'mistake of fact' defense and self-defense justification? Those are under two different titles in our Texas penal code," Myers said.
Guyger's defense continued to assert that he believed her actions represented criminally negligent homicide instead of murder.
At one point, Burns told Mowla that a precedent he raised in Guyger's defense actually supported her conviction.
It was then the state's turn, but Douglas only used eight of his 20 minutes and stood by the state's argument that this was a murder case and asked the court to keep the current conviction.
In court filings, Dallas County prosecutors countered that Guyger's error doesn't negate "her culpable mental state." They wrote, "murder is a result-oriented offense."
At one point Partida-Kipness complemented Douglas' written argument, calling it "pleasing on the eyes."
The next step is for the justices to hand down a decision, an opinion that they will have time to go over. There's not a specified date as to when that will be.
Guyger lived in the same apartment complex, one floor directly below Jean, and she said she mistook him for an intruder when she entered his apartment instead of her own.
Jean, a 26-year-old accountant, had been eating a bowl of ice cream before Guyger shot him. She was later fired from the Dallas Police Department.
Jean's mother, Allison Jean, said Tuesday's hearing re-opened her family's wounds.
"Hearing the lame defense, I mean, it just spurs some anger as well, because trying to get someone off on such a heinous crime that she committed, what she inflicted on my son, and trying to get out of it just shows that she has not taken accountability for her actions," Jean said.
"This afternoon was again, another dagger in my heart, having lost my precious son and I'm just looking forward to the decision of the court of appeals, to keep Amber Guyger where she belongs and that is in jail," Jean said.
Even though she said she was encouraged by some of the justices questioning and the prosecution's argument, the uncertainty of the situation is agonizing.
She said there was some justice with the conviction back in 2019, but doesn't feel like there was accountability.
Daryl Washington, one of the attorneys who represents the family, said he believes the evidence supports Guyger's murder conviction.
"We've heard this 'mistake of fact' argument before. We heard it throughout the trial, we heard it again today. but clearly, she testified as to her own intent and it was her own testimony that she said that she intended to take Botham's life," Washington said.
He brought up the fact that Guyger will be eligible for parole in 2024, five years into her 10-year sentence, which means she would have the possibility of getting out of prison.
"And it just adds insult to injury, that you have someone that took the life of someone in his own apartment, and that she cannot just accept responsibility," Washington said.
He said he hoped that the appellate court would uphold the decision that was made by the jury. Washington said no matter how long it takes, "we're just hoping that the right decision comes down."
"I think this ruling today is going to be about accountability and transparency, and somehow to be able to get people to have full confidence in the legal system," Washington said. "As Mrs. Jean said, this is not about justice. Justice would be having Botham call her on her birthday. Justice would be having Botham call his grandmother on her birthday. This is about accountability."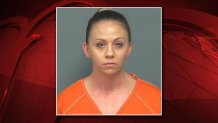 According to Texas law, if a deadly weapon is used, the charge is then a third-degree felony punishable by a maximum 10 years behind bars.
Defense attorney Russell Wilson, who is not affiliated with the case, estimated fewer than 5% of appeals are granted.
The appeal comes as a jury's finding that a former Minneapolis police officer was guilty of murdering George Floyd has again focused national attention on police killing people of color.
More than two years before Floyd's death set off protests across the country, Guyger's killing of Jean drew national attention because of the strange circumstances and because it was one in a string of shootings of Black men by white police officers.
Killed at Home: Continuing Coverage
Copyright NBC 5 News and The Associated Press