Continuing a 45-year tradition, Kathy Burks, Doug Burks, Becky Burks Keenan and Sally Fiorello work as hard as Santa's elves to prepare Frosty & Friends, a holiday show featuring the magical puppets of Kathy Burks Theatre of Puppetry Arts at the Dallas Children's Theater.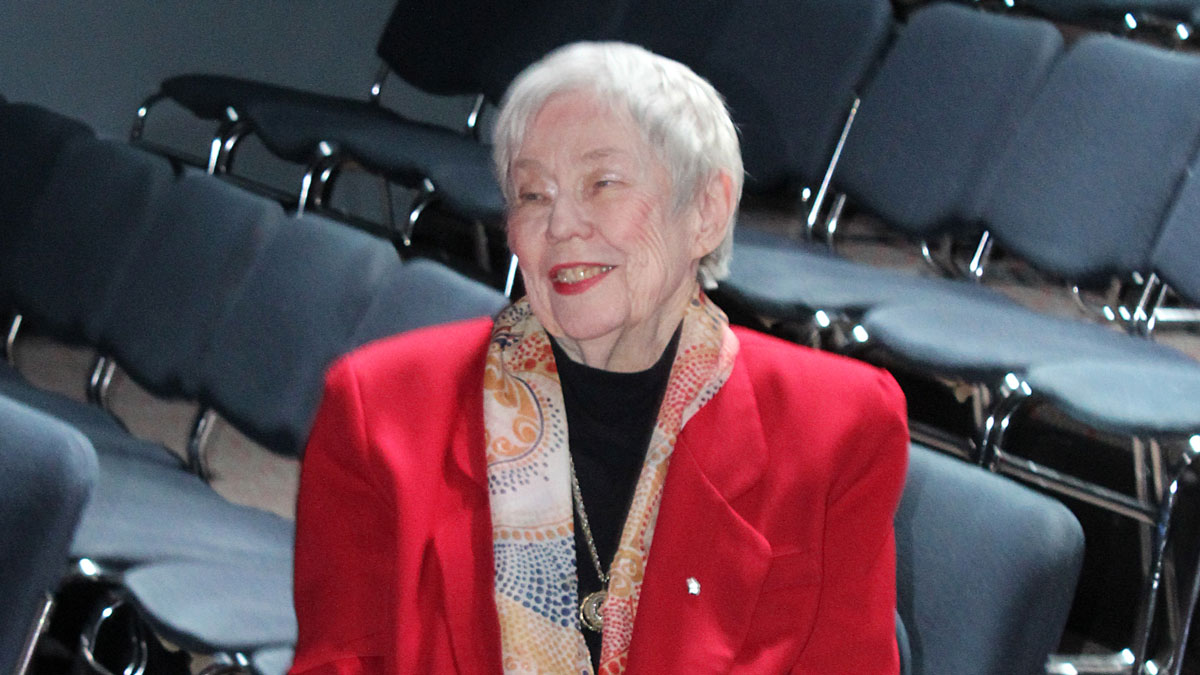 This theatrical adventure began with Kathy Burks' fascination with a beautiful collection of antique puppets and a desire to nurture her children's interest in theater.
Local
The latest news from around North Texas.
"It was really exciting. When I found all these puppets, my goodness, they were beautiful," Burks said.
The puppets appeared as the Sue Hastings Marionettes at the Texas Centennial on June 7, 1936, the same day Burks was born. Years later, Burks spent many Saturdays driving her children, Doug and Becky, to Linnea Linsley's Oak Cliff home for marionette lessons.
In 1971, Burks made a low bid to buy the entire collection of over 1,000 antique puppets. Surprised when Linsley accepted her offer, Burks remembers why Linsley was willing to part with the collection.
"'I want your two kids and yourself to have the puppets because you're all talented and you love puppetry and you are artists,'" Burks recalled.
In 1973, Burks established Kathy Burks Marionettes, creating shows with the antique collection. In 1976, the company opened the Haymarket Theater in Olla Podrida, performing shows 52 weeks a year. That same year, the Dallas Bicentennial Committee commissioned the company to produce and perform a touring show for the bicentennial year called Stars and Stripes, earning Burks the Spirit of '76 Award.
Burks became a busy producer, collaborating with Dallas Symphony Orchestra on a concert for Dallas-area students, producing a TV pilot for children called Discovery Outpost and creating a segment about being a puppeteer for Barney & Friends.
In 1996, Kathy Burks Theatre of Puppetry Arts began presenting original puppet plays as a part of Dallas Children's Theater's regular season.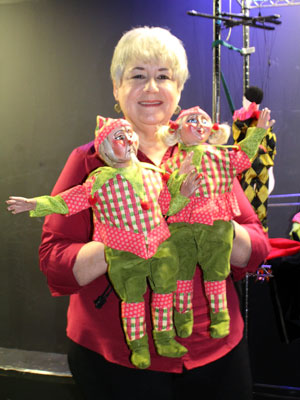 Thriving for over four decades requires creating a quality theatrical experience. "I think it's just the quality of the craftsmanship of everything about the shows that has made it last as long as it has," Becky Burks Keenan said.
Sally Fiorello, who has worked with the company since 1973, recognizes the artists' commitment. "I think it's a dedication," Fiorello said. "The people that work the most and longest with us are dedicated to creating the best possible experience with puppets."
When the puppeteers are working backstage, wearing black velveteen smocks and hoods, teamwork is imperative.
"We have developed an artistic shorthand. We've worked together so long that we can almost anticipate what the other's next move is going to be. To work with the same group of people and grow together artistically is a blessing," Doug Burks said.
Creating a show like Frosty & Friends can take a year, beginning with an idea for a show and a concept for how to use puppetry to tell the story. The team collaborates with long-time writer and composer, Bea Wolf.
"Her shows are compelling. She can write for kids. She can write for adults. She can write for families," Fiorello said. "She never talks down to kids," Doug Burks added as Keenan recalls Wolf's inventive use of vocabulary to spark audience's curiosity about language. "She's the best storyteller ever," Keenan said.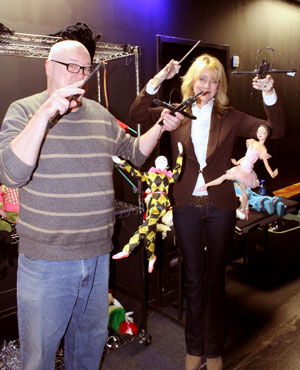 While the company still maintains the original marionettes Kathy Burks purchased in 1971, most puppets are now created for shows. Two marionettes in Frosty & Friends are antiques.
"These things are so well-built you would never know to look at them that they are 80 years old," Doug Burks said. "When we use them, we have to be very careful with how we use them," Kathy Burks said.
Puppets are built for specific moments in the show. One version of Frosty ice skates. Another Frosty puppet is the same color as his favorite frozen beverage. Overall, Frosty & Friends features over 20 puppets. Audio with voices and music is recorded, but often it is re-recorded to best fit with the action of the show. The team constantly refines ideas until they create magic. "It's complicated," Keenan said.
Frosty & Friends is one of 30 original shows and performed for more than 400,000 people at Dallas Children's Theater.
"I think we've kept the art of puppetry alive for 45 years. We've kept it alive in that we have generations of families that have been continuously experiencing our work since the 70s," Doug Burks said.
An artistic passion continues to drive Kathy Burks. "Mainly I'm a lover of the arts," Burks said. "I want everyone whether they are old, or they are young to have a great understanding and awareness of the beauty of all the arts around us - the beauty of the world, the beauty of nature. This is what I use puppetry for: to inspire a love for the arts."
Frosty & Friends continues through December 23
MORE: Dallas Children's Theater

Kimberly Richard is a North Texan with a passion for the arts. She's worked with Theatre Three, Inc. and interned for the English National Opera and Royal Shakespeare Company. She graduated from Austin College and currently lives in Garland with her very pampered cocker spaniel, Tessa.

Copyright FREEL - NBC Local Media