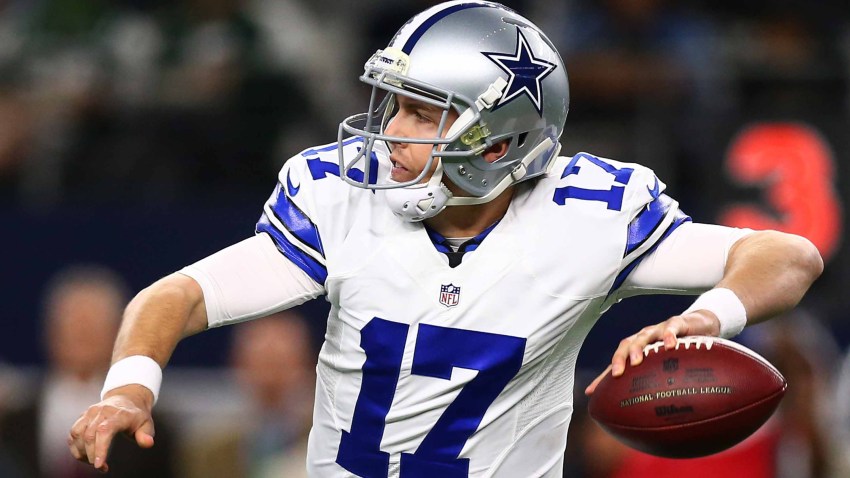 10. I know the Cowboys were abysmal during their 1-15 season in 1989. But, seriously, the offense wasn't any more anemic than this. Saturday night was the third consecutive game and 6th time in 14 outings that Dallas was held to one offensive touchdown or less. That's just embarrassingly inept. This season the defense has played like an 11-5 unit, but the offense has been 5-11 at best.
9. Last week I feared Matt Cassel produced the microcosm of the season with his double-clutch finesse flail into the ground in Green Bay last week. But last night he topped it with a play right out of NFL's Football Follies. After wisely not throwing a covered quick screen to Cole Beasley in the first quarter, the quarterback then stumbled, looked right and eventually attempted to throw the ball out of bounds – but had the wounded duck of a pass intercepted by Darrelle Revis. Even in this epic season, getting called for intentional grounding on an interception is embarrassing.
8. Home-field disadvantage? Since moving to Arlington in 2009 the Cowboys are now 27-28 at home. Don't ask me to explain that one.
Local
The latest news from around North Texas.
7. Good news is that newly promoted Terrance Mitchell picked off Ryan Fitzpatrick in the third quarter. Bad news is that it is the first interception by a Cowboys' cornerback this season, and in 559 passes dating back to 2014.
6. We've talked all season about the Cowboys' struggles on 3rd-and-1, but it's more of a sickness on third downs in general. How nauseating? In their last three games how about 1-of-9 against the Redskins, 1-of-11 against the Packers and last night 2-of-11 against the Jets. By my math that's a three-game run of 4-of-31 (13 percent) conversions, and by my judgment that's horrible.
5. Cowboys have now used four quarterbacks this season with Tony Romo, Brandon Weeden, Cassel and Kellen Moore. Last time it happened was 2001, with the inspiring quartet of Quincy Carter, Anthony Wright, Ryan Leaf and Clint Stoerner. Romo's obviously more accomplished than Carter, but Nos. 2-4 are very comparable trash.
4. Raise your hand if you're tired of Jason Garrett's tired, hollow clichés. "We just battle," the head coach told NFL Network at halftime. "That's what this team is all about. Guys who are fighting and scratching and clawing." He forgot, " … and losing." Effort be damned, his team is 4-10.
3. Frustration? The Cowboys have led or been tired in the fourth quarter of seven of their eight games without Romo. Last night they were in a position to finally win a late, close game until rookie Byron Jones was beaten by Kenbrell Thompkins for a 43-yard pass that set up the Jets' game-winning field goal.
2. You want silver linings and positives to take from an otherwise lost season? La'el Collins is a monster of an offense lineman, often blocking 20 yards downfield. And DeMarcus Lawrence is finding his potential, recording six sacks in the last six games and making four tackles for a loss against the Jets. If nothing else, the Cowboys have found productive linemen on both sides of the ball for 2016 and beyond.
1. Best I can remember, Kellen Moore is the first left-handed quarterback to complete a pass in a regular-season game for the Cowboys. Jim Zorn was in camp with the team in the '70s but never played in a game, and Paul McDonald was a backup to Danny White in '86 who never attempted a pass. So despite his three interceptions, Moore is unequivocally the best lefty quarterback in the history of America's Team. And, undoubtedly, also the worst.

A native Texan who was born in Duncanville and graduated from UT-Arlington, Richie Whitt has been a mainstay in the Metroplex media since 1986. He's held prominent roles on all media platforms including newspaper (Fort Worth Star-Telegram, Dallas Observer), radio (105.3 The Fan) and TV (co-host on TXA 21 and numerous guest appearances, including NBC 5). He lives in McKinney with his wife, Sybil, and two very spoiled dogs.
Copyright FREEL - NBC Local Media