Texas Wesleyan University head baseball coach Mike Jeffcoat was fired Thursday over NAIA rules violations and a discriminatory email sent to a college recruit, university officials say.

TWU President Fred G. Slabach called the email inappropriate at a news conference Thursday morning, saying, "The comments he made are in no way a reflection of our university or its values. We do not tolerate discrimination. We value inclusiveness."
The email in question was sent from Mike Jeffcoat's university email account to high school student living in Colorado:
"Thanks for the interest in our program. Unfortunately, we are not recruiting players from the state of Colorado. In the past, players have had trouble passing our drug test. We have made a decision to not take a chance on Student-athletes from your state. You can thank your liberal politicians. Best of Luck wherever you decide to play."
Jeffcoat was let go because of the email and also due to rule violations of the National Association of Intercollegiate Athletics, Slabach said. He couldn't provide details since that investigation was ongoing, he said. The violations had to do with the eligibility of players, he said.

Athletic Director Steve Trachier said Thursday the school and the program does not discriminate against public policy of any state or an athlete's state of origin, he said.

A Denver sports radio broadcaster tweeted out the message Wednesday and it had since gone viral.

Local
The latest news from around North Texas.
Denver's NBC station spoke to the recruit, Gavin Bell, Wednesday evening to hear his reaction.
"I just felt bad for myself because I felt like it was my fault that this all happened and I couldn't do anything about it because I didn't really know anything about it in the first place," Bell said. "I'm a good student athlete. I'm just sad that he couldn't take a chance on me, because of what is going on in the state of Colorado. Not even having a background check on me."
A university spokesman confirmed the existence of the email to the Houston Chronicle. The university said in a statement that it doesn't condone discrimination, including on the basis of the "political legislation of one's home state."
NBC 5 spoke with Texas Wesleyan students as well who think the coach's actions amount to discrimination. They worry it could reflect badly on their school.
"That's you putting on a kid something grown men did," said Texas Wesleyan Freshman Delyone Dobbins. "Something that grown politicians did, that was completely out of his control."
Classmate Ryan Houston added, "Assuming that because he's from that area he would do something that would get him kicked off the team anyway is irresponsible and it's not fair."
Texas Wesleyan University responded Wednesday with the following statement:
We are aware of the email sent by our baseball coach, and the comments he made are in no way a reflection of Texas Wesleyan University, its values or its recruiting practices.
This is a personnel matter and it is currently under investigation. It is our University policy to not discuss personnel matters, but we want to reiterate that this email does not reflect our values and we do not condone discrimination. This includes discrimination on the basis of race, color, origin, ethnicity, gender, age, religion, disability or sexuality; or the political legislation of one's home state. We are committed to providing an inclusive campus for all of our students, faculty, staff, visitors, potential students and their families.
Texas Wesleyan has a long tradition of excellence in athletics and we are committed to recruiting student-athletes who will excel at our university. Like the NAIA's core values, we are focused on building and recruiting champions of character.
NBC 5 reached out to Jeffcoat for comment, but so far have not heard back.
Jeffcoat pitched 10 years in the majors before becoming head coach at Texas Wesleyan in Fort Worth in 2002.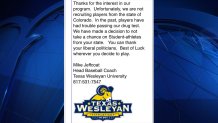 Copyright AP - Associated Press