NBC 5 Investigates has learned hundreds of America's active duty soldiers have complained about harassment, verbal abuse and mistreatment at the Army's Warrior Transition Units that were designed to help the injured heal.
NBC 5 investigative reporter Scott Friedman teamed up with The Dallas Morning News' Dave Tarrant for a six-month investigation to uncover the stunning allegations described by soldiers recovering in Texas from the wounds of war.
The soldiers returned home injured, both physically and mentally, and were once again under attack as they were ridiculed, harassed and threatened by commanders assigned to help the recover.
Local
The latest news from around North Texas.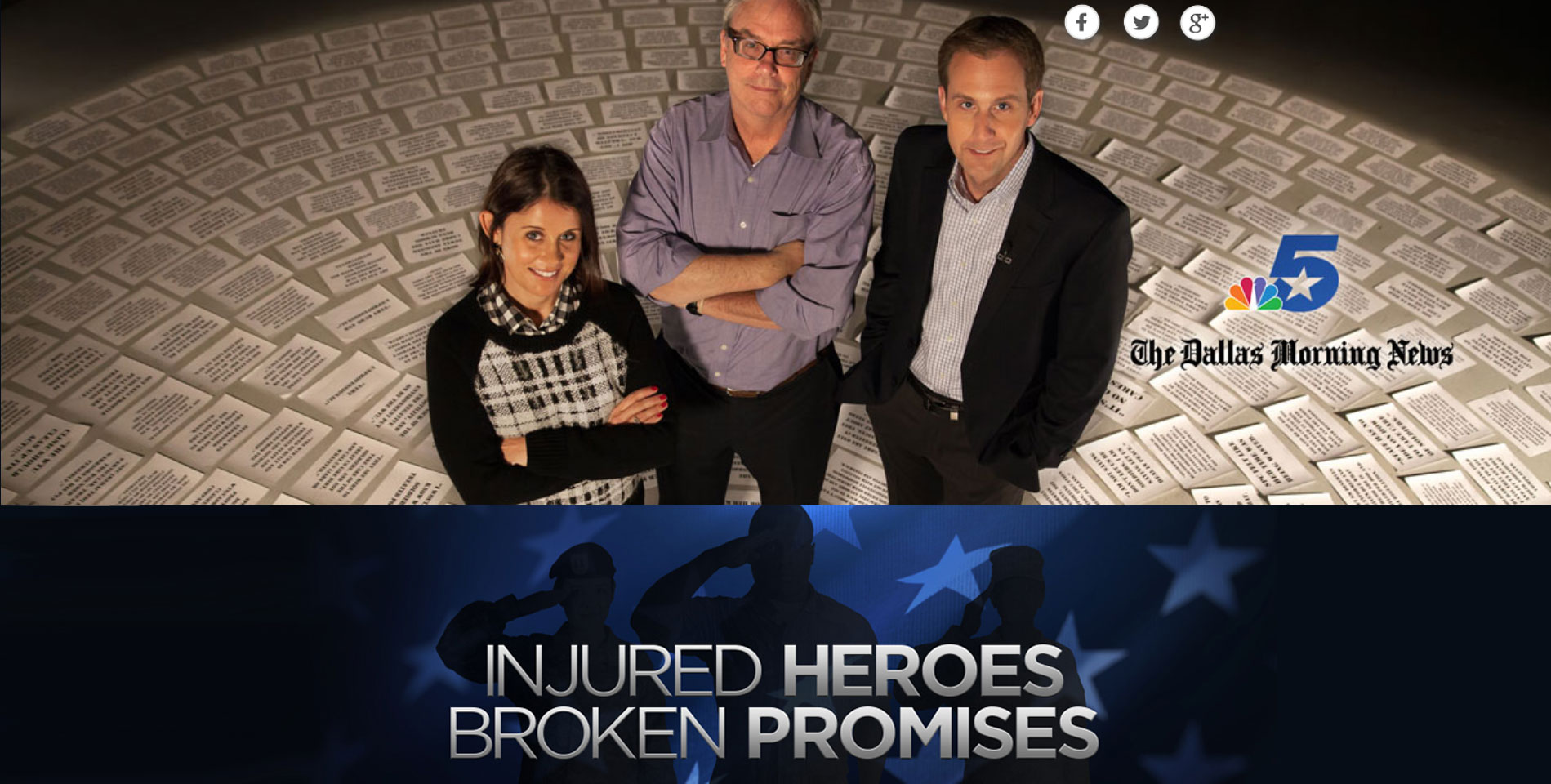 Learn more about the background of this story here.
Army Sgt. Zack Filip served as a combat medic at a primitive outpost in Afghanistan earning a bronze star for valor as he treated the wounded in harsh conditions, under nearly constant attack.
"I thought I was going to die there. I mean I had actually prayed about it and came to peace with the fact that I was going to die," said Filip.
Filip came home to Fort Hood suffering from post-traumatic stress — haunted by things he had seen. Then came another nightmare; the 2009 Fort Hood shooting that left 13 dead.
Filip jumped into action — helping save the life of a wounded police officer. For his heroics The Army Times named him the 2010 "Army Soldier of the Year."
"I was just kind of in awe of the whole situation", Filip said.
But Filip said he was treated like anything but a hero at Fort Hood's Warrior transition unit or "WTU," where the Army sent him to treat his post-traumatic stress.
"WTU made everything a lot worse," Filip said. "I mean physically and mentally — especially mentally."
After the 2007 Walter Reed scandal revealed soldiers waiting for care in terrible conditions in Washington, the Army opened WTU's across the country to improve the treatment provided to active duty soldiers. Inside a WTU, medical teams treat soldiers until they are either able to return to their unit or transition out of the Army.
American Veterans Disabled for Life Memorial
But the WTU is still run like a regular Army unit by a team of commanders who help care for soldiers. Those commanders also assign jobs and enforce military rules.
Filip said instead of most of the commanders being compassionate or helpful to those recovering, more were like drill sergeants whipping soldiers with PTSD into shape like as if they were new recruits by regularly threatening discipline or demote them.
Some commanders, Filip said, used demeaning comments to try to motivate the soldiers. Words from one commander cut to Filip's core.
"He would refer to us as broke-dicks. And you know it was just demeaning for no reason. I mean I got it, yes, I know I might not be the soldier that I used to be physically and mentally. But you don't have to add fuel to that fire," Filip said.
Filip is not the only one to describe harsh treatment.
NBC 5 Investigates and The Dallas Morning News obtained hundreds of Army documents through the Freedom of Information Act detailing complaints from soldiers over five years at three WTU's in Texas: Fort Hood, Fort Bliss and Fort Sam Houston.
In page after page of documents obtained by NBC 5 Investigates, soldiers describe harassment, disrespect and unfair treatment from WTU commanders in complaints made to the Army Ombudsman and directly to unit leaders.
In some complaints anger pours out. One injured soldier writes: "This is getting to the point where it is more stressful here than it is in a combat situation. There is no dignity or respect for us."
Another said: "My stress levels are sky high, my depression is at an all-time low and I have never felt so abused, so neglected as I do right now. I completed my tour my duty and all I need is treatment."
One wounded soldier reports, " ... his 1st Sgt. has 'created a climate of intimidation.'" And still another said, "she was told she's weak because she cries."
Dr. Stephen Stahl, a world renowned psychiatrist hired to train staff at Fort Hood's WTU five years ago, said the complaints do not describe an environment designed to heal the wounds of war.
In his own study of the WTUs, Stahl found many unit leaders lacked an understanding of mental health issues and that many did not believe post-traumatic stress disorder was real.
Stahl believes that drove staff to treat soldiers with PTSD like slackers who need to "man-up and move-on."
"The idea is that you're weak, you're cowardly, you're worthless, you're not strong and it's your fault," Stahl said, adding that it created a mentality that can destroy a healing soldier's self-esteem. "It also makes them doubt their medical care or their psychiatric care. The same Army that's telling you you're a slacker or a dirt bag gives you treatment and medications. Are you going to take it?"
Stahl said he left Fort Hood deeply concerned.
"It brought me to tears. It seemed to me like they were equipment that was used, expired and discarded," Stahl said.
Since Stahl's visit in 2009 the Army said it's taken many steps to improve care at WTU's and the Army insists WTU leaders who disrespect the injured are immediately removed.
Col. Chris Toner heads the Army's Warrior Transition Command in Washington and said there is a zero-tolerance policy in effect for harassment and abuse.
Toner said he believes the various accounts of abuse by soldiers in recovery are isolated cases and not indicative of a pervasive problem of harassment and abuse within the WTC formation.
NBC 5 Investigates has learned that over the last two years, across the entire Army, one-third of all complaints handled by the Army's Ombudsman's office have come from soldiers in WTU's.
Toner said that's a sign WTU soldiers are more aware that the Ombudsman's office is there to help resolve problems and that if complaints prove to be true the Army has all the systems it needs to take action.
Toner added that the Army was sending the message every day that soldiers in recovery, in WTUs, are not to be mistreated.
"We're doing it every day. We're doing it every day. The message is you can't mistreat these soldiers," Toner said.
Army records obtained by NBC 5 Investigates do contain comments from soldiers praising some WTU commanders.
One writes, "The people in this company work really hard to take care of us. They go above and beyond."
Sgt. Michael Howard who served in Iraq said he had some compassionate squad leaders at Fort Hood's WTU. But some officers left him feeling humiliated, belittled and treated like a dirt bag.
"The leadership at the WTU is ignorant," said Howard.
Howard said he was up all night sometimes struggling with PTSD but officers still ordered him to attend early morning military formations that aggravated his stress.
As he struggled to function he said he was punished, assigned extra duty and told to "man up." To him, it seemed like soldiers trying to heal were being hurt instead.
"A group of guys that are trying to get better, that are getting knocked down that are being hurt more," said Howard.
The Army insists WTU staff is told never to push a soldier beyond the limits set by their doctor.
"Our goal is to give every soldier and family member world class care and support as they go through this tremendously challenging process in a lot of cases," Toner said.
For Filip his frustration at the WTU reached a boiling point when he found himself at his lowest point. Struggling with PTSD he said his temper flared one night when an argument with two neighbors landed him in jail.
The charges were later dropped but as he sat in jail for a month Filip said the unit leaders who promised to care for him visited only once, leaving him without his medications for PTSD.
"The people that know my medical situations the best were supposed to be my squad leader, was supposed to be my unit. And they just left me there. They didn't help me at all," Filip said.
Fort Hood's new WTU commander told NBC 5 Investigates he does not have information to answer questions about Filip's case. Since taking over in July he said there have been no new complaints of mistreatment.
Filip medically retired from the Army last year with the feeling that the Army only cared for him when he wasn't sick.
"There was nothing I wouldn't have done for my guys. Heck, for my country. And now I'm sitting here being treated like I've done something wrong," said Filip.
Howard also medically retired from the WTU this summer.
Monday night, see what an Army agency found when it investigated the way the Army chooses WTU commanders and trains them and why a former WTU leader said he should not have been allowed to supervise injured soldiers.