Brandon Bevers, the husband of a North Texas fitness instructor killed Monday before a class inside a Midlothian church, spoke publicly Tuesday for the first time since his wife's death.
Bevers greeted a group of reporters that had gathered outside of the family's home Tuesday for a one-time interview, after which he asked for privacy for his family.
His wife, 45-year-old Missy Bevers, was found slain inside the Creekside Church of Christ before dawn Monday. Police later released video showing a person walking through the church before Missy Bevers arrived at about 4 a.m. The unidentified person was wearing what appears to be police-style tactical gear, police said.
The father of three said Tuesday afternoon that the last day and a half were a whirlwind that didn't seem real and that he hasn't yet been able to slow down and begin dealing with the loss of his wife and best friend.
"I haven't had a whole lot of time to get emotional about this yet. I've been dealing with the immediate needs of my children," Bevers said. "This morning I finally started thinking about the events that occurred yesterday morning and, so, I'm starting with that process today."
Bevers said before he and his wife of 20 years had children, she worked with special needs children. She stopped working to raise their daughters, now ages 15, 13 and 8, and, when they got old enough, she went back to work as a fitness instructor with Camp Gladiator.
"My wife was a godly woman. She was a very passionate about changing people's lives with fitness and in changing their mental attitude toward the body and their abilities in life," Bevers said.
Bevers said he hadn't been very involved in her fitness work, but that he was very proud of the relationships she'd built and the success she had in transforming people's bodies.
Local
The latest news from around North Texas.
"Now that I'm seeing some of her campers, I've noticed a substantial impact that she's had on so many people's lives," Bevers said. "I would catch some her campers remarks on her Facebook page about how excited they were of the results that they'd seen through her efforts and I'm proud of her. We're very proud of her. I want to reach out to the Camp Gladiator campers that she mentored and I want to talk to those folks and express my appreciation for their admiration of my wife."
Bevers was in Biloxi, Mississippi Sunday night and said he last spoke with his wife by telephone. He recalled that Missy was very tired and that he told her he loved her and they said goodnight as she fell asleep. Thanks to her, Bevers said, they expressed their love for each other every day.
"She texted me every day and said, 'I love you honey, I hope you have a good day,'" Bevers recalled. "She has made it a point, every day, when I show up to work I receive a text about the same time, 'I love you honey, I hope you have a good day.' She was an exceptional wife."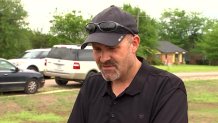 Bevers said he couldn't imagine who would want to hurt his wife and said he wasn't privy to much information that hasn't been made publicly available.
"As far as the perpetrator -- we still don't know who he is," Bevers said, when asked about the person recorded on surveillance video. "I ask everybody out there to review the video. Look at the video. The person has a very distinct walk. There's just a very distinct mannerism about this person that should be very apparent to somebody."
After watching a loop of the video, Bevers said it didn't appear to him that the person in the video was wearing "tactical gear," but rather a "shoddy" outfit made up of motorcycle boots, a generic police jacket, "flimsy sweatpants" and a helmet of some kind.
Bevers said he can't tell if the person is a man or a woman, and Tuesday afternoon Midlothian police backed away from previous assertions about the person's gender.
"We are backing off our statement that the suspect on video was a man. I know we said 'he' over and over again yesterday, and that was a mistake. There's a lot of speculation based on the gait and appearance that this person may be a woman. It's a legitimate question right now," said Assistant Chief Kevin Johnson, with the Midlothian Police Department. "That does not mean I'm saying this suspect is a woman. It's just that at this point we can't rule it out. We don't know yet."
Police said Tuesday they believe a car seen in the distance in the video may have belonged to the person on video in the church, but that it's so far away they aren't comfortable speculating on a make or model.
"I want to definitely, publicize, that my wife -- she was a great woman, a great wife, a great mother, a great friend. She will be missed by many people," Bevers said. "But please, please be diligent as you can and review the video and report anything to the Midlothian Police Department.
Going forward Bevers said he's prepared to have deeper discussions with his children about the loss of their mother, but hopes in the meantime police are able to identify and track down her killer.
"It's very important for us to get some closure, with that," Bevers said. "I haven't had a lot of one-on-one time with my children ... Fortunately they've had a lot of friends coming by. They're in high spirits but I know this one-on-one situation is going to occur and I'm ready for it."
Meanwhile, Bevers said he'll rely on friends, family and members of the Cowboy Church where he and his wife and daughters have attended services for the last 15 years.
A private funeral service for Missy Bevers is currently being planned. Bevers said his wife will be buried close to their family home so that she can remain close to her daughters.
Midlothian police declined to release Bevers' autopsy results Tuesday citing the ongoing investigation by their department, county officials and the Texas Rangers.
NBC 5's Jeff Smith contributed to this report.