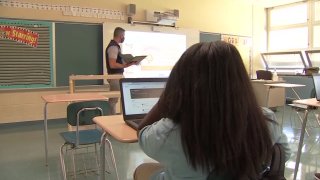 Students across North Texas return to school this month. As COVID-19 cases rise in the state, some area school districts are taking steps they hoped were behind them to slow the spread of the virus and keep students safe.
Dallas ISD announced it will require face masks on district property beginning Tuesday, defying an executive order from Gov. Greg Abbott (R) that prohibits districts from mandating face masks.
Other major Texas school districts followed suit shortly afterward. Dallas County Judge Clay Jenkins issued an emergency order last Wednesday, requiring masks at all county public schools.
The Denton City Council also passed a mask mandate during an emergency meeting last Thursday night. According to the ordinance, the mandate applies to Pre-K through 12 public schools, child care centers, businesses, and city buildings.
On Monday, the Texas Supreme Court seemingly blocked the Dallas County mask mandate and upheld Abbott's executive order, but Dallas County Judge Clay Jenkins says his order was not struck down by the state's highest court.
Other school districts across North Texas are "strongly encouraging" masks and offering online options for students unable to be vaccinated yet in Pre-K through the sixth grade.
The Texas Education Agency said it would not give districts money for virtual programs.
Local
The latest news from around North Texas.
Here's how your North Texas school district is dealing with the latest surge in COVID-19 cases as the school year nears.
(Districts are listed in alphabetical order)
Anna ISD
Face masks or cloth coverings will be optional per the Governor's order. Anna ISD will not conduct close contact investigations and students/staff will not be required to quarantine for potential exposure to COVID-19. However, parents/staff will be notified if the district has been made aware that their student has had potential exposure to COVID-19. Click to read more on Anna ISD's safety protocols.
Birdville ISD
Birdville ISD added a temporary virtual learning option for grades K-6 but is only offering it to 350 students districtwide.
The school district announced the remote learning option on Friday, which will begin Aug. 18, run until Oct. 29 and have 50 spots per grade. Registration for the online option goes live at 8 a.m. on Saturday, Aug. 14.
The district's health and safety protocols say mask-wearing is optional but asks any unvaccinated students or staff to "please consider wearing a mask for your own protection and for the protection of others."
Brock ISD
The district is making masks optional this year when students head back on Aug. 18. Click here for more information on safety protocols.
Burleson ISD
Students and staff are not required to wear masks. Any student or employee may wear a mask if they choose to do so.
BISD will notify parents when their child has been identified as a close contact.
BISD will report positive cases to local public health and DSHS.
Parents must keep students home who have received a positive test result for COVID-19. Parents should notify the school nurse if their student tests positive. BISD will continue to work with parents and local public health to establish a return date. Click here for more information.
Carrollton-Farmers Branch ISD
After the Texas Supreme Court seemingly upheld Abbott's executive order Monday, Carrollton-Farmers Branch said it would no longer require face coverings.
Instead, the district "strongly encouraged" all students, staff and visitors to wear masks after the mask requirement ended effective Tuesday, Aug. 16.
But, CFB-ISD did say their mask safety protocols could change with any new legal action.
Celina ISD
The district heads back to class Aug. 18 and will not be requiring masks or face coverings for students or staff.
When it comes to contact tracing, the district said because school systems are not required to conduct COVID-19 contact tracing, it will not be contact tracing at this time. However, CISD added if it is made aware that a student is in close contact, CISD will notify the student's parents. Click here for a full list of protocols.
Cleburne ISD
Masks and facial coverings will remain optional for students and employees as Cleburne ISD prepares for the start of school on August 18.
"Expectations are for students, guided by their parents, teachers and staff to self-care as we begin a new school year with COVID still in the headlines," the district announced on its website. "Our campuses will remain vigilant in providing a safe learning environment through established cleaning protocols."
COVID exposure letters are not planned for 2021-22.
The district is also launching a new initiative to address learning loss and emotional health of its students this year.
Crowley ISD
Crowley ISD said Friday it would temporarily require masks to be worn inside all buildings and on school buses.
The district announced the mask requirement after a Travis County district court judge granted a temporary restraining order against Abbott's prohibition on mask mandates.
Crowley ISD was joined in the filing by several other districts, including La Joya, Edinburg Consolidated, Hidalgo, Brownsville, Edcouch-Elsa, Lasara and Pharr-San Juan-Alamo.
Dallas ISD
Dallas ISD is requiring masks on district property. Superintendent Michael Hinojosa leads the largest school district in North Texas and the second-largest in the state.
On Aug. 19, DISD said it would offer virtual learning as an option, with classes beginning Aug. 24 for children 11 and under.
More information on registration and eligibility is available online.
DeSoto ISD
In a school board meeting Monday night, DeSoto ISD's board said it would comply with Jenkins' mask mandate despite the Texas Supreme Court seemingly upholding Abbott's executive order.
The district said it would continue to require masks and approved the district's "ability to consider all options regarding possible engagement in legal action over the mask mandate in conjunction with other school systems if necessary."
Jenkins tweeted late Sunday night that the Texas Supreme Court's stay on GA-38 didn't strike down his mask order and that it remains in place.
"I am so appreciative of our Board for their bold leadership in making this decision to protect our students," superintendent D'Andre Weaver.
Diocese of Dallas Catholic Schools
The Catholic Diocese of Dallas announced a mask requirement starting Tuesday.
Many of its 31 schools across North Texas, which have around 15,000 students, had already adopted mask protocols.
But Superintendent Matt Vereecke cited "clear and present danger for unvaccinated children" from the delta COVID-19 variant and rising COVID-19 cases in North Texas in a letter to parents for the mask mandate.
Bishop Lynch and Bishop Dunne high schools are two of the most notable schools affected in Dallas County.
Fort Worth ISD
At a school board meeting Aug. 10 night, Fort Worth ISD superintendent Kent Scribner initially said Fort Worth ISD would require masks when students return to campuses next week.
The district's decision came after several other major Texas districts, including Dallas and Austin ISD, defied Abbott's executive order prohibiting mask mandates in schools on Monday. Scribner cited a letter from 100 pediatricians asking for the mask mandate to keep children safe in his decision.
Last Friday, however, a Tarrant County district judge said Fort Worth ISD cannot require students and staff to wear face masks while indoors on campus.
141st District Court Judge John Chupp granted a temporary restraining order to district parents against the district, saying an executive order issued by Texas Gov. Greg Abbott (R) banning mask mandates superseded the school district's own requirement.
The temporary restraining order is in effect for 14 days, and in a response, the district said it would honor the court order but strongly recommended all students, parents and staff wear a mask.
The Fort Worth ISD Board of Trustees voted to join a lawsuit seeking to override Abbott's executive order on Tuesday, joining Harris County as well as several South Texas districts.
The school district will be 100% in-person this fall as Fort Worth ISD begins on Aug. 16.
Frisco ISD
Frisco ISD became the first school district in North Texas to offer a virtual option for children in grade six and below who cannot yet receive the COVID-19 vaccination.
Frisco ISD Superintendent Mike Waldrip said the decision was due to the "rapidly changing conditions" of COVID-19 in Texas and that online learning worked last year.
"As a group, our virtual learners did better than our in-person learners even when we account for socioeconomic status, they still perform better," Waldrip said.
The school district will follow Gov. Abbott's order on mask mandates, giving students and staff the option to decide whether they want to wear face coverings on campus.
Hurst-Euless-Bedford ISD
The HEB ISD board of trustees is considering an online option for students in grades six and below, as children under the age of 12 cannot yet be vaccinated against COVID-19.
If the board approves the option, virtual learning would begin Sept. 7 and through Oct. 29, which is the end of the second six weeks of school, at which point the program would be reevaluated, the district said.
The deadline for families to enroll would be 4 p.m. on Aug. 20.
Irving ISD
Masks are not required. Students, staff and visitors will are highly encouraged to wear masks on district property and at district events.
Irving ISD does have a safety plan in place, which includes tracking positive COVID-19 cases on each campus. Those results will be posted on the district's website for parents to check daily.
Irving ISD will not be offering virtual as an option this year.
For COVID-19 related questions, including reporting of lab-confirmed positive cases, contact Karyn Beauchamp, Director of Clinic Health Services at kbeauchamp@irvingisd.net.
Keller ISD
Face masks are optional for students and employees when students return on Aug. 18. However, Keller ISD will support any student or employee who chooses to wear a mask. Keller ISD's Virtual Learning Option (asynchronous with no live instruction) will be implemented for the first-nine week grading period for those in grades K-6 who applied for the program, regardless of the status of SB 15. Those virtual learners will begin class Tuesday, September 7, and they do not report to campus Wednesday, August 18, for the first day of in-person learning. Additional communication will be provided to those families in the coming days. Click here for details on safety protocols.
Mansfield ISD
Superintendent Kimberley Cantu said Mansfield would offer a 12-week remote learning option for kids in grades K-6 that begins Aug. 25, one week after in-person learning begins in the district.
In a letter to parents and guardians Friday, Cantu cited "the continued rising number of COVID-19 cases" for the decision. According to its health and safety protocols, Mansfield ISD said face coverings will be optional due to Abbott's executive order.
The deadline to apply for the district's virtual instruction is on Monday, Aug. 16.
Mesquite ISD
Masks are required per Dallas County Judge Clay Jenkins' order. Effective Aug. 17, masks will be required for students, staff and visitors in all Mesquite ISD schools and facilities. All campuses and facilities have masks available for anyone who may have been unprepared for this abrupt change Click to learn more.
Northwest ISD
Northwest ISD is offering a nine-week remote learning option to its K-6 students.
In a letter to Northwest ISD students, families and staff on Friday, superintendent Ryder Warren said the decision to offer virtual learning was due to a shortage of pediatric ICU beds in North Texas and "a spike in children being afflicted with COVID – a concern compounded by increasing RSV and flu cases in our hospitals."
The district's K-6 grade families would receive a commitment form by the end of the day on Friday, Aug. 13, Warren wrote.
He also said Northwest ISD would comply with Gov. Greg Abbott's executive order banning mask mandates in Texas public schools despite the defiance of the order from several Texas school districts and counties.
The district is strongly encouraging masks as Warren said it waits for clarification from the legal battles over Abbott's ban on mask mandates.
"We will wait over the next several days to see how the politics is played out on this," Warren wrote. "Then we will make the best decision (in accordance with the law) for our children, families, and staff."
Paris ISD
Citing concern for its students and employees, the Paris ISD school board adding face masks to its dress code Tuesday.
The district said the board believes the dress code can be used to slow the spread of COVID-19.
"The Texas Governor does not have the authority to usurp the Board of Trustees' exclusive power and duty to govern and oversee the management of the public schools of the district," a Paris ISD statement said.
Plano ISD
Plano ISD announced a parent-led, temporary virtual learning option on Monday.
"In order to address the needs and concerns of our families with children enrolled in grades Pre-K through 6, who are not yet able to be vaccinated, the district will be offering a temporary online, asynchronous learning option for parents who are seeking an alternative to in-person learning," the district said in a press release.
Parents who wish to use the temporary virtual learning option must register by 11:59 p.m., Wednesday.
Plano ISD is complying with the governor's order regarding the use of masks. Students, staff, and visitors are not required to wear masks, but the use of masks is recommended for those who have not been vaccinated. Universal indoor masking is also recommended for all teachers, staff, students, and visitors to K-12 schools, regardless of vaccination status, the district said.
Richardson ISD
Richardson ISD officials announced that the order by Dallas County Judge Clay Jenkins requiring masks in schools, businesses, and county buildings will apply to the school district when in-person classes begin Tuesday.
According to a news release, the mask requirement includes students, teachers, employees, and visitors in schools and buildings and at outdoor events.
Richardson ISD is also offering a temporary "virtual classroom option" for students in grades six and below.
Superintendent Jeannie Stone announced the virtual learning in an update Monday, allowing parents to select the option until Aug. 13.
The district also said masks are "optional but strongly encouraged" in the update.
Although the Texas Education Agency said contact tracing is not required if and when positive cases of COVID-19 are confirmed in classrooms on Aug. 5, Richardson ISD said it will continue to contact trace and notify close contact of positive COVID-19 cases.
Parents can then choose if a non-symptomatic student identified as close contact will quarantine.
Anyone can learn more about Richardson's virtual learning option here and parents can register here.
Rockwall ISD
Rockwall ISD is offering a parent-led virtual learning option for students in grades six and below, who cannot be vaccinated against the coronavirus.
Online learning will begin Aug. 25 and be reviewed by Oct. 15, the district said.
Rockwall ISD said it would continue to monitor guidance issued by the Texas Education Agency and other updates from the state legislature.
Weatherford ISD
Weatherford ISD says it will follow the one state requirement related to COVID-19: If any student, staff, or volunteer has been in school and reports testing positive for COVID-19, district staff will report the positive case to the local health department and to the Texas Department of State Health Services.
Health and safety protocols in Weatherford ISD for the 2021-2022 school year will include the option for students, staff, and volunteers to wear masks or face coverings. However, face coverings will not be required in WISD facilities or on school buses.
At this time, the district will also not be conducting contact tracing but will post positive cases of students, staff, and campus volunteers on the district dashboard.