Jackie Brister, 82, is a life-long rancher who has never been in trouble with the law, until last month when he was indicted by a Lampasas County grand jury for allegedly killing two bald eagles, a federally protected bird.
Brister spoke to NBC 5 at his 3,000 acre ranch near Bend on Monday afternoon. When asked if he shot the birds, Brister replied, "No, I did not."
Brister said the bald eagles, buzzards, and other birds of prey have been killing baby sheep on his ranch for years, costing him about $200,000 a year in losses.
Brister said he called Fish and Wildlife in the past asking what he could do for relief, but insists he did not shoot the bald eagles, though he admits he had a motive.
"I reckon if you call losing $200,000 a year motive, I have motive," Brister said. "I keep getting more sheep all the time, thinking I'd have more lamb to sell. All I'm doing is just feeding more eagles, I reckon." said Brister.

"He's not the only person out here with this same problem and he's not the only person with that same motive," said Brister's attorney Joshua Ross. "He's also not the only person out here that rides around with firearms in their vehicles. It's a different way of life than it is elsewhere."
On Tuesday, Brister surrendered to the Lampasas County Sheriff's Department where he was fingerprinted and had his booking photo taken ahead of his first court appearance.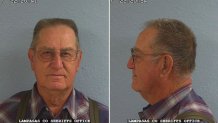 Brister's bond amount Tuesday was listed at $500.

Local
The latest news from around North Texas.
"There is the juxtaposition of this national symbol that we have in this country and this man's livelihood," said Ross. "That's in addition to him being branded as a criminal."
The misdemeanor charges carry a punishment of up to a year in jail and $4,000 fine. Brister said he would like to see the laws changed to help people who depend on the land for their living.
"I don't like being accused of something I didn't do," Brister said.