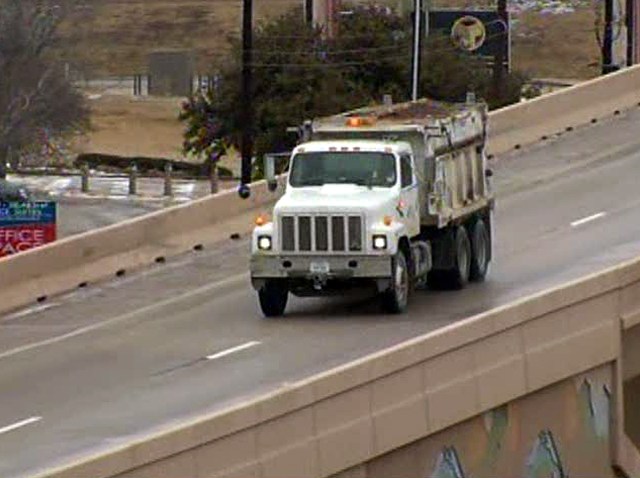 North Texas highway crews are back on patrol for ice with extreme cold blanketing the region again.
A dozen snowplows from West Texas returned Tuesday night, but Wednesday morning's snowfall was not heavy enough to use them.
Instead, crews used sand mixed with salt or deicing chemicals on bridges and overpasses, said Texas Department of Transportation spokeswoman Michelle Releford.
Local
The latest news from around North Texas.
"We're running really tight on our materials, but we've got enough, and as we run low on one stockpile, we move materials from around our district to that stockpile," she said.
One of the most heavily treated and heavily traveled interchanges in the region is the Dallas High Five, where Central Expressway (U.S. 75) and Interstate 635 (the LBJ Freeway) cross.
Long after the morning snowfall had passed Wednesday afternoon, the High Five saw several crashes related to lingering ice.
"As more traffic hits an area, more melting will happen," Releford said. "That little layer of water on the road on top of ice can make a problem."
Dallas police said officers responded to 121 minor crashes and 74 major crashes between midnight and 8 p.m.
Releford said there are some 5,000 bridges in the Dallas TxDOT district but just 160 sand trucks to patrol them all, so trucks cannot just wait around for problems.
"We deploy a truck to that area to take care of that trouble spot, and then we're back on our regular route," she said.
Cab driver Khelid Elkihel said the winter weather response from state road crews has been inadequate.
"They're not doing their job," he said. "We had the Super Bowl lately, and we were not prepared and it's affecting the business of Dallas."
Resident Raymond Claiborne said more highway department spending for rare North Texas winter weather would be unjustified.
"Unless it comes a time that we get this more often and it gets worse -- yeah maybe," he said. "But until then, I don't see the point."
Releford said TxDOT officials will review their response to the recent winter weather but, for now, engineers do not plan major changes.