One look at an NFL game during the national anthem and it's easy to see Americans are divided.
"Colin Kaepernick says America should be better than this. America has that kind of potential," said Rev. Dr. Frederick Haynes of Friendship-West Baptist Church.
When we spoke to Haynes, the senior pastor, he was wearing a shirt featuring Kaepernick kneeling. In fact, he said his collection has grown thanks to members of his church. He's able to sport a different one each Sunday.
"I'm standing in solidarity with him, but especially his message," Haynes said. "He was concerned about and could no longer be silent in the face of racial injustice in this country, especially when it came to the policing system."
It's a message, he said has recently become lost in the crossfire.
Number seven started taking a knee a year ago. Now it's unclear whether players are locking arms to support Kaepernick's cause or to defy the president who unleashed a series of tweets attacking the NFL.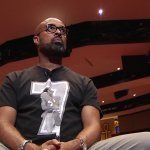 "If we're honest, the message is lost today because of what the president has done," said the Dallas pastor.
Local
The latest news from around North Texas.
Haynes said he understands the criticism from those with loved ones who fought for this country and feel the flag is being disrespected.
"I cannot help but respect that. I would hope they would also respect the fact that many of them who have issues with the methodology of protesting have never been black," he said.
But he points to civil rights activists like Rosa Parks and Muhammad Ali and the 1963 March on Washington.
"I think that there's an evolution going on that when you study history, it's always been this way," he said. "Now we think 'I Have a Dream' and what a great moment that was, yet over 60 percent of Americans were against the march at that time."
Haynes hopes people appreciate each other's perspective.
He's been boycotting the NFL this season because Kaepernick is still out of a job, so during Monday Night Football two weeks ago, he held a discussion at the church. It was a conversation about police brutality and improving race relations.
[NATL]NFL Players Protest During National Anthem After Trump's Criticism
Haynes said Dallas's new police chief showed up along with a large crowd. He plans to do it again.