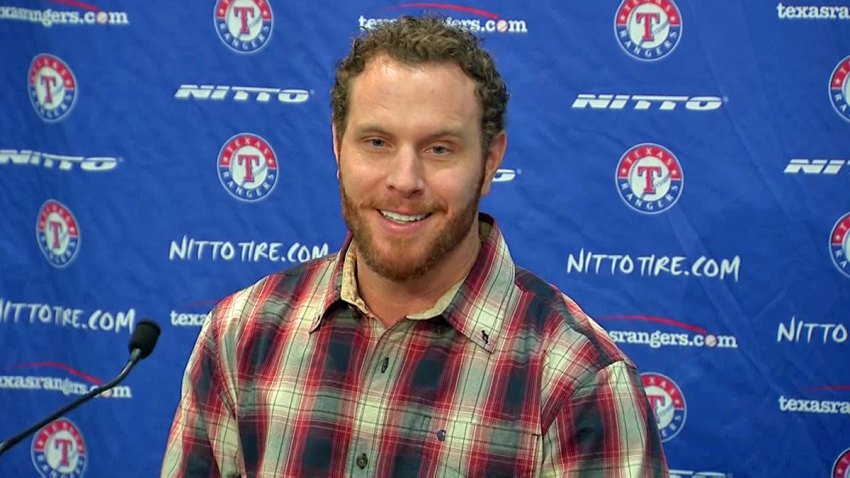 Josh Hamilton had his first workout since his trade back to Texas on Tuesday in Arizona, and he reported good things in terms of his health, saying his surgically repaired shoulder feels 100 percent and that he's been good to go physically for a while now.
What Hamilton said was a bigger deal was his connection with some young players who are still trying to feel their way around the back fields at extended spring training.
Hamilton stopped to snap pictures and sign autographs for Padres prospects in Surprise, and one Padres youngster even took to Twitter to show off his latest celebrity encounter, as seen below...
Hamilton said it was nice to get back to his roots and realize where he was, before things went so horribly wrong with his battle with drugs and alcohol after he was a No. 1 draft pick by the Tampa Bay Devil Rays (yes, they were the Devil Rays then), suspended, signed by Cincinnati, suspended, traded to Texas, won the AL MVP and two straight AL pennants, left unceremoniously to join the rival Angels, said dumb stuff, relapsed, got divorced and then traded back to Texas for nothing just because the Angels wanted to get rid of him that badly.
OK, got it all? Good.
Bottom line is, Hamilton might benefit from this extended spring training stint, even though he's expected to be ready to join the Rangers by mid-May. It's only going to last for another week or so before he likely heads out for a rehab assignment in Triple-A, but it could be good for his humility to knock him back down another notch.
"I think the biggest thing is that it reminded me of where I was at one time," Hamilton told MLB.com. "What a long road it has been, and the ups and downs and the good and bad. You know the whole thing just makes me feel appreciative."
Local
The latest news from around North Texas.
He should be appreciative that another team was willing to give him a shot after it was clear the Angels wanted nothing to do with him anymore. Now, the Rangers could really use a return on their investment, as small as it was.
Copyright FREEL - NBC Local Media