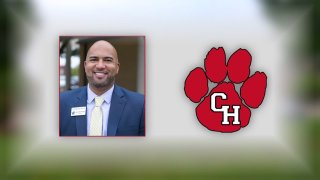 A principal at the center of a controversy in the Grapevine-Colleyville Independent School District has been placed on paid administrative leave, the superintendent wrote in a letter to parents late Monday.
Superintendent Robin Ryan said in a statement Monday afternoon that an interim principal was now in place at Colleyville Heritage High School while embattled Principal Dr. James Whitfield had been placed on leave.
Ryan wrote in part, "I wanted to share information with you regarding the leadership at Colleyville Heritage High School. Effective immediately, Dr. Whitfield has been put on paid administrative leave."
Ryan said in his statement that he would not go into specifics about why Whitfield had been placed on leave because "it is a personnel matter."
"I did want you to hear about it directly from me. I also want you to know that the entire district leadership team and I are fully committed to the success and well-being of Colleyville Heritage students as we move forward together," Ryan wrote.
Whitfield, who is Black, was named principal of Colleyville Heritage ahead of the 2020-21 school year and was soon after accused online and in board meetings of teaching critical race theory.
Whitfield released a statement about the suspension to NBC 5 Monday afternoon, saying "I have done nothing wrong by anyone. I've only chosen to speak up after they allowed that man to speak my name at the board meeting. Instead of speaking out against the behavior ... they came after me."
Local
The latest news from around North Texas.
Whitfield spoke only to NBC 5 News weeks ago when he said the district wasn't doing enough to dispel the rumors and accused his district of not standing by his side while empowering his critics who demanded he remove 10-year-old photos of him and his wife, who is white, embracing on the beach.
A petition in support of Whitfield has been signed hundreds of times.
What is Critical Race Theory?
Critical race theory is a way of thinking about America's history through the lens of racism. Scholars developed it during the 1970s and 1980s in response to what they viewed as a lack of racial progress following the civil rights legislation of the 1960s. It centers on the idea that racism is systemic in the nation's institutions and that they function to maintain the dominance of white people in society. The architects of the theory argue that the United States was founded on the theft of land and labor and that federal law has preserved the unequal treatment of people on the basis of race. Proponents also believe race is culturally invented, not biological. Read more about CRT here.
Editor's note: The initial version contained a description of critical race theory that was not accurate. The article has been corrected and a description of critical race theory has been added above. We regret the error.