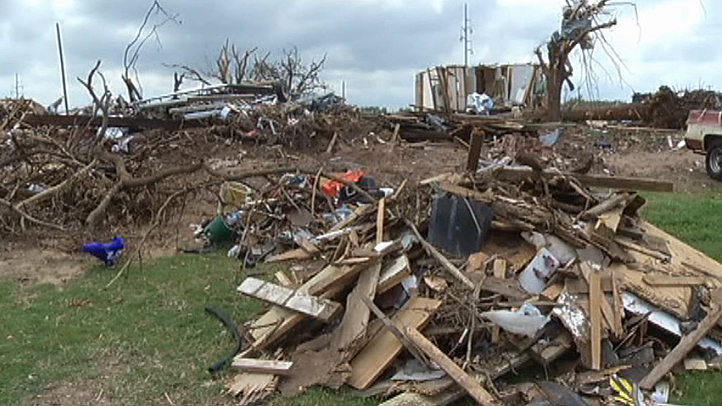 Like Dorothy in The Wizard of Oz, Christy Green was sucked up into the vortex of a tornado, spinning around her destroyed house in the debris-filled sky.
"I remember it all like it was slow motion, I had time to pray and have a long conversation with God, and that's when it all stopped. I told him if you are going to take me, take me now, because I couldn't take anymore pain.
"At that moment it all stopped and I was buried up to my knees in the backyard, I was driven into the dirt. I believe I made a complete circle around the perimeter of my house. There was nothing left of the house but the slab and I didn't know where my boys were," Green said.
Local
The latest news from around North Texas.
The single mom's two sons, Brandon and Dillon, were also vacuumed out of a bedroom closet where they were huddled on May 15 when the tornado -- one of 19 to strike North Texas that day -- hit the Rancho Brazos neighborhood, killing six and injuring dozens of others.
Dillon, 18, was flung down in a vacant field behind the family's home. Brandon, 21, who is now studying meteorology at Texas A&M University, was thrown in the opposite direction across the street and three houses down.
Their three cars, which had been lined up in the driveway, ended up on the opposite side of the house, still in a perfect row but damaged beyond repair, said Green, who crashed into her vehicle during her flight.
Miraculously, the two brothers sustained only minor injuries, but Green suffered a head injury and a fractured neck and spent four days at John Peter Smith Hospital in Fort Worth.
"I had a big gash on my forehead, I had staples in my knees. I had tons of bruises, I had been beat to death by the debris," she told the Fort Worth Star-Telegram.
The howling winds turned her long hair into instant dreadlocks.
"The nurses at JPS spent hours and hours cleaning my hair. They found spearmint leaves. I had a forest in there," said Green, who works as a medical assistant in a cardiology office at Huguley Memorial Medical Center in Fort Worth.
The twister that hit Rancho Brazos seemed to stay over the neighborhood "forever," said Amanda Hernandez who sought shelter in a closet with her husband and three children in their manufactured home.
"Like they say, it does sound like a train going through the yard. It was so scary," she said.
The stunned family emerged from the remains of their heavily damaged home to a scene of utter chaos.
"Everyone was running around crying. We were just so glad to be still alive," Hernandez said.
Little was left of Rancho Brazos, a modest hodgepodge of houses and mobile homes a few miles east of Granbury in unincorporated Hood County.
Houses were wiped off foundations, mobile homes were crumpled like cans and vehicles were strewn in every direction. The EF4 tornado with estimated wind speeds of 180 mph toppled trees or left behind stripped spikes in its 800-yard wide, 2.75 mile-long path of devastation.
The "sheer destruction" of the neighborhood awed Mark Fox, a meteorologist at the National Weather Service's Fort Worth office, who assessed the damage.
"You could see trees stripped of their bark, there were trailer homes that were hundreds of yards from where they were supposed to be," he said. "Looking around and knowing there were people in there flying around changes your views of tornadoes a little bit."
Considering that there were about 30,000 people in the Granbury tornado warning area that day, the number of deaths and injuries could have been substantially worse, he said.
"A lot of people did exactly what they were supposed to, they went to their safest room," Fox said, adding that the weather service issued a tornado warning 18 minutes before it touched down at 7:58 p.m. The twister stayed on the ground for 13 minutes.
It was the most powerful of the 19 tornadoes that exploded across Montague, Palo Pinto, Parker, Hood, Johnson and Ellis counties between 5:33 p.m. and just after midnight that day, Fox said.
About 20 miles east of Rancho Brazos, an EF3 tornado packing 140-mph winds ripped a mile-wide, 8.5-mile long gash along Lake Pat Cleburne a few miles south of Cleburne. The tornado, which was on the ground from 9:12 p.m. to 9:23 p.m., heavily damaged dozens of homes.
An EF1 tornado with 90-mph winds sliced a 400-yard wide, 6-mile-long path through Ennis, damaging nearly 20 homes and more than 50 commercial properties before it careened across Interstate 45.
All told, the swarm of twisters caused an estimated $200 million in damage, according to Mark Hanna of the Insurance Council of Texas.
Fox said the tornadoes are a cautionary tale for everyone in North Texas.
"In April, May and June, you have to pay attention to the weather."
Many of the homes in Rancho Brazos, including Green's, had been built by Habitat for Humanity-Granbury. All 60, including two under construction, were damaged. Thirteen were destroyed and two more were eventually demolished, said Habitat director Carol Davidson.
"We just cried when we got out there," she said of the neighborhood where the organization has been building about five homes a year since 1999.
But Habitat rolled up its volunteer sleeves and got back to work rebuilding and organizing aid efforts with Granbury churches, missions, businesses and residents.
Many of the other residents in the neighborhood didn't have home insurance but that's required on Habitat homes, Davidson said.
The silver lining, said her husband, Steve Davidson, a retired airline employee who supervises the group's construction work, is that the residents are getting better homes their second time around.
"People have been able to add additions, bathrooms, porches and carports. They are getting to put their own stamp on them," Steve Davidson said during a tour of the neighborhood.
Green was able to change everything in her home.
"It's awesome. We added a bathroom, crown molding and a fireplace. We got brick, we got a car port and a back porch," she said, noting that they also added an underground storm shelter.
"It's our security blanket. Now my biggest fear is we're going to be in the storm shelter and that door gets sucked off. That's what I keep thinking about," Green said.
Habitat helped residents deal with insurance matters, find temporary housing and then worked with local contractors to rebuild the homes on the existing slabs, Steve Davidson said.
Mission Granbury aided the other residents and helped all of them handle insurance, utility bills and other expenses. Hundreds of other Granbury residents and businesses pitched in to help, Carol Davidson said.
All of the Habitat owners except one are back in their homes and the group has been able to buy lots where mobile homes once sat, he said, noting that so much money was donated that Habitat has pledged to build 11 new homes this year and six of those are done, he said.
The Habitat housing is now sheltering 182 people and five more will be moving into the one uncompleted home, Carol Davidson said.
A neighborhood community center operated by the Acton United Methodist Church was heavily damaged but it has been remodeled and expanded, said Pamela Ennis, the church's community outreach director.
Recently, the bustling center, which also serves as after-school program for 65 kids, held a combination counseling session and Christmas dinner for the Ranch Brazos neighborhood.
"There's been a lot of progress but the neighborhood is still rebuilding. PTSD (post-traumatic stress disorder) is rampant among the kids every time a storm hits," Ennis said.
"Habitat has done an amazing job even for the other people. This has been a huge community effort in Granbury. After six months people are still helping," she said. "It's a great lesson in human response to a crisis."
Except for the cell phone she was texting on when the tornado threw her into the sky, Green lost everything in the storm.
"They found it a few days later and it was still working. Everything else was gone," she said.
But not for long.
"My workplace gave me $4,000 in cash and supplied me with all the scrubs I needed and bought a bunch of stuff for my boys. They were awesome," she said.
Green also has a new outlook on Granbury.
"After 18 years here, I never felt accepted. It's been a hard town to make it in, it's kind of cliquish. But I have a new perspective on Granbury. I want to tell you, everybody stepped up," she said.
"I was at the Red Cross after the tornado and this woman followed me out to the parking lot. She said, `I'm going to take care of you.' I was like, `OK,' and she said, `I mean it.' "
And Linda Guy did.
The Granbury woman and her husband, Pat, made the Green's family their mission.
"She made sure I have never been unhappy. They adopted us. There were a lot of churches and people in Granbury who were so amazing," Green said.
"We have more now than we did before the storm. It's unbelievable. I'm so blessed."
Copyright AP - Associated Press