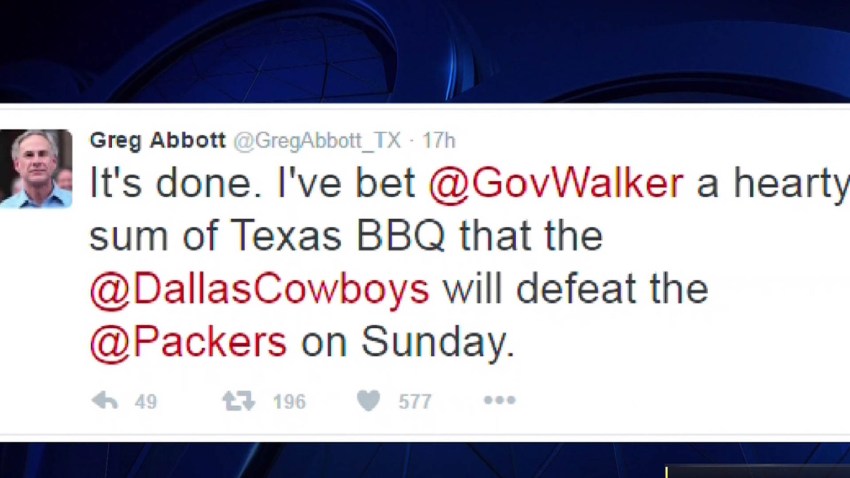 It's not just the NFC Divisional Playoff match-up on the line when the Cowboys play the Packers on Sunday, there's a lot of wagers crossing state lines.
America's Team will battle Green Bay at Arlington's AT&T Stadium on Sunday.
GUBERNATORIAL BET
Local
The latest news from around North Texas.
On Twitter, Texas Governor Greg Abbott announced he bet Wisconsin Governor Scott Walker "a hearty sum of Texas BBQ."
Gov. Walker said a Packers loss means "an assortment" of Wisconsin products will go to Austin.
COUNTY BET
Twitter is also where the wager took place between Milwaukee county Executive Chris Abele and Dallas county Judge Clay Jenkins.
"We agree on most things except that he's just wrong about his football preference," Abele told NBC affiliate WTMJ-TV in Milwaukee.
"There's so much to like about Clay Jenkins, but there's more to like about [Packers linebacker] Clay Matthews," Abele tweeted.
Judge Jenkins said he is betting Texas barbecue on the game. Abele will send a six pack of a few of Milwaukee's finest craft beers for a Packer's loss.
FIREFIGHTERS BET
The Dallas and Green Bay fire departments had safety in mind for their wager.
In a press release, Green Bay Metro Fire Dept. Chief Dave Litton said he offered a friendly wager to Dallas Fire-Rescue Chief David Coatney.
"The wager entails the losing team's fire chief install a smoke detector branded with the winning team's logo in their office. Further, the losing team's fire chief will be sent the winning team's t-shirt and hat to wear," said the press release.
Additionally, The Buff Project from New York City will donate 50 NFL licensed team-branded smoke detectors to each department to give toe the community.
The goal is to raise awareness of smoke detectors in homes.. something we could all get behind.