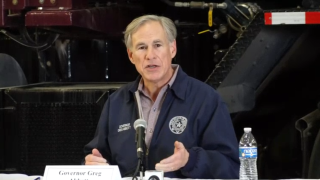 Texas Gov. Greg Abbott says The Electric Reliability Council of Texas, the nonprofit that oversees the state's power grid, "has been anything but reliable" and is adding ERCOT reform as an emergency legislative item this legislative session.
The governor is calling on the legislature to investigate ERCOT and ensure Texans never again experience power outages on the scale they have seen over the past several days.
Stay informed during the severe weather season with our local news and weather app. Download NBC 5 Dallas-Fort Worth for Apple or Android and pick your alerts.
"The Electric Reliability Council of Texas has been anything but reliable over the past 48 hours," said Abbott in a statement. "Far too many Texans are without power and heat for their homes as our state faces freezing temperatures and severe winter weather. This is unacceptable."
Abbott said he'll direct legislators to review the preparations and decisions by ERCOT to get a full picture of what caused the problem and find long-term solutions.
"They are not providing clear answers to me or to the public," Abbot said. "And the public has a right to know."
ERCOT said the demand for power began to exceed the supply early Monday morning and they were forced to order rotating, controlled power outages to keep the grid intact and to help even more people not experience longer uncontrolled blackouts that could have last for weeks or even months.
Winter Weather Recovery
After several days of sub-freezing temperatures, some melting is expected Friday and Saturday.
Bill Magness, president and CEO of ERCOT, said electricity is an essential service and is critical and that it's completely appropriate to investigate and make sure that things were handled in the most effective way so that they can learn how to avoid these outages in the future. Magness said he would have been more surprised if the governor took no action and added that he'd be happy to participate and be involved in the discussions with the leadership they report to.
Magness told NBC 5 Tuesday that if they didn't ask for the reductions in demand and a blackout occurred that there's no telling when they would be able to resume regular service.
Magness said Tuesday they hoped to allow providers to restore service to many customers this week.
Some power grid experts questioned how the state was caught so off guard.
"This is not an unusual black swan event," said Jay Apt of the Carnegie Mellon Electricity Industry Center. "We know that these cold snaps happen."
More than 70 power generating plans were frozen out, even though operators had days to prepare for the weather.
NBC 5 Investigates learned Tuesday that inspections designed to ensure plants were winterized properly did not happen the same way this year due to COVID-19.
Instead of in-person inspections, inspectors conducted virtual inspections. The exercises began in November, but ERCOT said some of the facilities had still not conducted virtual tabletop exercises.
NBC 5 Investigates confirmed that some of the blackouts were never actually rolling outages at all. Oncor said some of the neighborhoods were simply shut off -- almost 48 hours ago -- and there was never enough supply to bring those homes back up and shift the outages to other areas.
ERCOT, which is subject to oversight by the Public Utility Commission of Texas and the Texas Legislature, was founded in 1970 as an independent, nonprofit responsible for overseeing Texas' power grid, a network of nearly 47,000 miles of transmission lines and substations that carry electricity to utility companies for distribution. Texas' grid, under optimum conditions, has 82,000 megawatts of generation capacity and delivers 90% of the electricity used in the state by more than 26 million consumers.