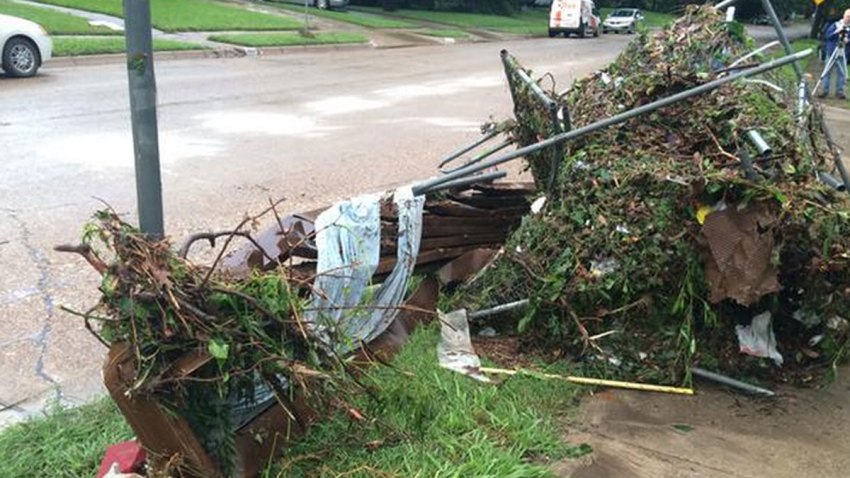 NBC 5 is teaming up with the Red Cross and Kroger to assist Texans affected by severe storms, tornadoes and flooding. People can go to any Kroger in DFW and drop loose change into coin boxes located at every checkout stand. The money goes directly to support disaster relief efforts for the Red Cross Disaster Relief Fund.
Texas Gov. Greg Abbott declared a state of disaster in 24 additional counties Friday, bringing the total number of counties under Texas' state disaster declaration to 70, the governor's office says.
The counties added to the declaration are: Angelina, Burleson, Cherokee, Edwards, Ellis, Fayette, Gillespie, Kaufman, Lamar, Liberty, Leon, Lynn, Madison, Milam, Real, Refugio, Rusk, Sabine, Travis, Tyler, Uvalde, Victoria, Waller and Wharton.
Local
The latest news from around North Texas.
Additional counties may be added as the situation develops.
"The large number of Texas counties currently experiencing a state of disaster is an indication of how severe this ongoing weather situation is, and I cannot emphasize enough how important it is for everyone to heed local officials' warnings," said Abbott. "Our thoughts and prayers continue to be with all those affected, and I strongly urge all Texans to take all precautions to protect themselves and their families and neighbors."
To view Abbott's disaster declaration, click here.
Record Rains Flood North Texas
The following 70 counties have been declared in a state of disaster: Angelina, Archer, Bastrop, Blanco, Bosque, Bowie, Burleson, Caldwell, Cass, Cherokee, Clay, Collin, Comal, Cooke, Denton, Dewitt, Eastland, Edwards, Ellis, Fannin, Fayette, Gaines, Garza, Gillespie, Grayson, Grimes, Guadalupe, Harris, Harrison, Hays, Henderson, Hidalgo, Hill, Hood, Houston, Jasper, Johnson, Kaufman, Kendall, Lamar, Leon, Liberty, Lynn, Madison, Milam, Montague, Navarro, Newton, Nueces, Parker, Real, Red River, Refugio, Rusk, Sabine, San Jacinto, Smith, Travis, Tyler, Uvalde, Van Zandt, Victoria, Walker, Waller, Wharton, Wichita, Williamson, Wilson, Wise and Zavala.
The following resources are involved in the state's continued response to this weather event:
Texas Department of Public Safety (DPS): Assisting with reconnaissance, search and rescue efforts, and providing personnel and resources as needed.
Texas Parks & Wildlife Department (TPWD): Conducting search and rescue missions during flash flooding/water incidents in affected areas.
Texas Department of State Health Services (DSHS): DSHS have mobilized resources, equipment and personnel to provide medical assistance as needed.
Texas Military Forces (TMF): TMF has deployed aircraft and high-profile vehicles, and continues providing assistance with search and rescue missions as needed.
Texas Task Force 1 (TTF1): Air and boat rescue squads have been deployed for search and rescue missions as needed.
Texas Commission on Environmental Quality (TCEQ): Continues to monitor dams and river levels in the affected areas.
Texas Department of Transportation (TxDOT): Crews have deployed resources to address flooding conditions and debris cleanup impacting roadways.
Public Utility Commission of Texas (PUC): Personnel continue to work with utility companies to resolve power/utility issues.
Texas Department of Agriculture (TDA): Assisting communities to apply for funds administered by TDA that will help with storm cleanup and rebuilding.
Voluntary Organizations Active in Disasters (VOAD): Organizations continue to provide shelter and other mass care needs as requested.
Additional partners and resources include: Texas A&M Forest Service; Texas A&M AgriLife Extension Service; Civil Air Patrol; Texas Department of Housing and Community Affairs; Texas Department of Criminal Justice; Texas General Land Office; Texas Health and Human Services Commission; Texas Department of Insurance; Railroad Commission of Texas; Texas Education Agency; Department of Aging and Disability Services; Department of Family and Protective Services; Texas Workforce Commission; Texas Animal Health Commission; Texas 2-1-1; and Texas Department of Information Resources.