Police say they have made an arrest after a deadly shooting at a Walmart gas station in Garland.
The shooting happened just north of I-30 at Broadway Boulevard.
Police said a woman, identified as 33-year-old Jessica Watkins, was talking to people at each of the pumps, possibly asking for money, when she was shot.
She was rushed to a nearby emergency room where she later died.
Investigators said Watkins approached 28-year-old Aaron Haas, who was sitting in his car at one of the pumps. At some point during the conversation, Haas shot Watkins and then left the scene.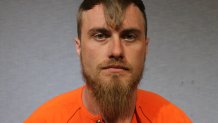 Haas was later found at a home in Rockwall. He's been charged with murder and remains in the Garland jail.