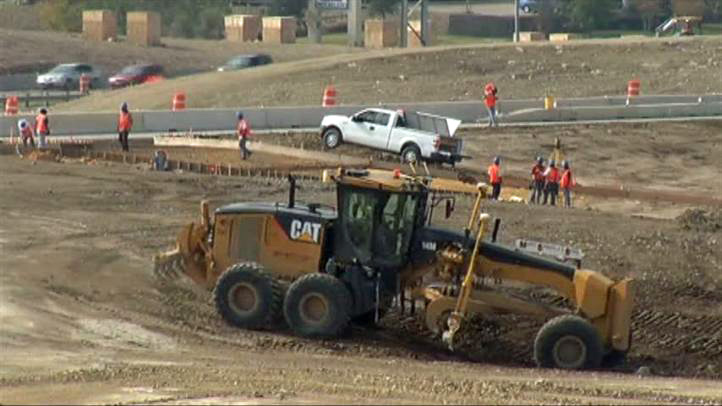 A long awaited and fought for tollway through the heart of Fort Worth is now about 30 months away from completion.
Once completed, the 27.6 mile Chisholm Trail Parkway will connect I-30 in Fort Worth with U.S. 67 in Cleburne.
Interstate 30 is already no stranger to traffic.
Local
The latest news from around North Texas.
"Congested on a daily basis," said John Balaney when asked to describe the traffic. "Sure enough between early morning routes into downtown and evening routes back home."
And in the coming weeks that congestion will likely get a little worse.
The North Texas Tollway Authority cleared the final funding hurdle last week. Now the parkway, which has been under construction for more than a year at the Hulen Street bridge and the Interstate 20 and State Highway 183 interchange, will bring its bevy of machines, detours and traffic to I-30 as early as the New year.
"There is going to be significant impact to I-30 and the surrounding areas, I can't say that enough," Elizabeth Mow, the NTTA's Interim Assistant Executive Director, told the city council.
Some of the impacts will include the narrowing of eastbound traffic lanes and shoulders between University Drive and Summit Avenue on 30. The Summit Avenue eastbound exit will be closed at one point, as will sections of Vickery Boulevard and University Drive.
New construction that will certainly lead to new headaches for drivers.
"I'm in outside sales, so up and down 30 all day, so definitely try to keep off those roads with more construction," said John Nelson.
"It's a headache, but sometimes headaches come with improvements," Balaney said.
But before any improvements actually benefit drivers, there will be a lot of work that will take place. The first sign of activity should be noticeable by Christmas, as crews will clear the pathway for the road. And in terms of road building standards this project will be a fairly quick project, just 30 months to complete.
Fort Worth Mayor Betsy Price called the timeline "aggressive" during a presentation to the council, but Price and other council members applauded the work by the NTTA, city staff and others for working to improve transportation in the area.
NTTA says that even if there are winter weather delays, the parkway should be open by May 2014.
One of the eight contractors working to complete the project recently finished another NTTA project in Plano ahead of schedule. The NTTA hopes something similar might happen for the Chisholm Trail Parkway.