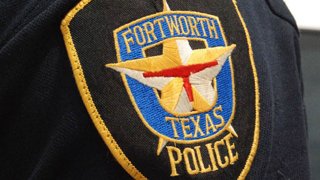 A police officer is on restricted duty after being arrested and accused of aggravated assault with a deadly weapon while off-duty in Benbrook, Fort Worth police say.
The Fort Worth Police Department confirmed police officer Benjamin Johnson was arrested by the Benbrook Police Department, though details about what led to the arrest and when it took place were not shared by the officer's department.
Benbrook police released a short statement Tuesday afternoon saying Johnson was at a single-family residence along the 1200 block of Sproles Drive with three other adults, two women and another man. Benbrook police said they were called to the home because of a disturbance where no one was injured and no property was damaged.
Johnson, Benbrook police said, was arrested and charged with three counts of aggravated assault with a deadly weapon. No further details were shared.
Johnson, Fort Worth police said, has been stripped of all police powers pending the outcome of criminal and administrative investigations into the allegation.
"The Fort Worth Police Department holds its officers to a high standard both on and off duty, and does not tolerate criminal misconduct or unethical behavior; therefore, a thorough investigation into the circumstances will be conducted," the department said in a statement Monday night.
Johnson has been with the department for four years and was assigned to the Directed Response Unit at the time of his arrest.
Johnson is represented by defense attorney Robert Huseman who released the following statement Tuesday afternoon: "It's very early in the process. We were retained on Tuesday morning and will immediately begin conducting our own, thorough investigation into the allegations. Until then, we would ask the public not to rush to judgment. Officer Johnson is a former Marine and a devoted police officer who has dedicated his life to protecting and helping others."