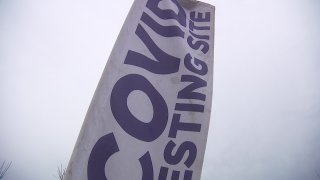 The Fort Worth ISD announced it now has five COVID-19 testing sites for employees and students.
Times of operation are being expanded as well.
Each location is open one day a week and performs rapid/antigen testing only.
Goodside Health and Fort Worth ISD have partnered to provide COVID-19 testing for students and staff at the Fort Worth ISD Family Resource Centers.
To participate in the FWISD COVID-19 Testing Plan, students and staff are required to register for the Goodside Health SchoolMed program.
FWISD COVID-19 Testing Locations:
Mondays: 10 a.m. - 2 p.m.
FWISD Transportation Center
6300 Wichita Street,
Fort Worth, TX 76119
Local
The latest news from around North Texas.
Tuesdays: 2 p.m.- 6 p.m.
Riverside Family Resource Center
1550 Bolton Street,
Fort Worth, TX 76111
Wednesdays: 2 p.m. - 6 p.m.
Forest Oak Family Resource Center
3250 Pecos Street,
Fort Worth, TX 76119
Thursdays: 2 p.m. - 6 p.m.
Northside Family Resource Center (J.P. Elder Middle School)
2011 Prospect Avenue,
Fort Worth, TX 76164
Friday: 10 a.m. - 2 p.m.
FWISD Family Action Center
5500 Norris Street
Fort Worth, TX 76119