Fireworks and dry conditions made for a dangerous combination on the Fourth of July weekend, with firefighters across North Texas kept busy by fires ignited by fireworks.
One of those calls was the professional Fort Worth's Fourth fireworks display at Panther Island Pavilion. Grass around the fireworks area caught fire, with spectators capturing cellphone video of the flames spreading.
The fire led to the show being shut down for the night and spectators being sent home.
Fort Worth Fire Department officials said organizers had been wetting the grass at Panther Island on Monday and the week before to take precautions.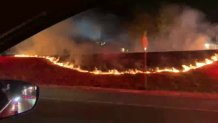 Fort Worth Fire Department officials were dispatched to 77 grass and brush fires in the city between 9:30 p.m. and 10:30 p.m. There was a total of 203 fire calls so far Monday evening, Fort Worth fire wrote on Twitter Tuesday afternoon.
"It is very dry. It is breezy. It's incredibly dangerous. One spark is all it takes," the fire department said in a tweet Monday evening.
Local
The latest news from around North Texas.
MedStar EMS said crews treated three patients for fireworks-related injuries over the weekend. Two of the patients had minor injuries while one person was hospitalized with a significant hand injury, MedStar spokesman Matt Zavadsky said.
GRASS FIRES IN DALLAS
In Dallas, fire officials responded to a blaze under Sylvan Bridge at approximately 10:30 p.m. on Monday.
According to the Dallas Fire-Rescue, the grass fire was ignited during firework celebrations.
The Dallas Fire Department also responded to a large grass fire under Margaret Hunt Bridge shortly after 11 p.m. on Monday.
According to fire officials, due to the high congestion on the bridge, fire engines were unable to respond to the blaze for nearly 40 minutes.