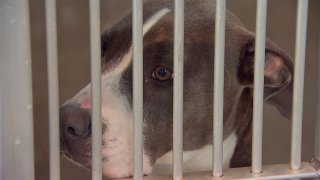 Shelters across the state are struggling to find homes for the big dogs in their care.
Dallas Animal Services and the Fort Worth Animal Shelter are both facing a capacity crisis for large adult dogs, and they are calling on families to adopt pets if they can.
"With the help of the community, DAS has transformed into one of the leading lifesaver's in the state, and our euthanasia rate is at an all-time low," DAS Interim Director MeLissa Webber said. "But, despite this progress, we are still running out of big dog kennels in the shelter, and, if we can't find homes and fosters for some of these great dogs, we will have to make difficult euthanasia decisions."
Dallas Animal Services said the organization is teaming up with Best Friends Animal Society for the "Texas Big Dog Campaign" during the month of October in order to encourage Texans to adopt or foster the shelter pets that are most at risk: dogs 40 pounds or over.
The campaign will coincide with National Adopt A Shelter Dog Month.
"About 80% of our kennels are able to house medium and large dogs and as of October 4, DAS was at 79% capacity," Webber said. "Asthe City of Dallas' municipal shelter helping any Dallas pet in need, regardless of our current capacity and right now, large dogs are coming in faster than they're finding positive outcomes."
The same is true for the Fort Worth Animal Shelter. Shelter leaders in Fort Worth said they are completely full, with about 800 animals being held at all of their locations at their north and south campus and the two adoption centers at PetSmart Hulen and PetSmart Alliance.
Local
The latest news from around North Texas.
According to shelter leaders, when the Humane Society closed this summer, many of those pets came to shelters in Fort Worth.
Shelter leaders said if more adoptions don't occur, they will have to resort to euthanasia.
"Primarily our biggest problem right now is with large dogs," a shelter employee said. "Then after that would be cats, then ultimately small dogs."
From now through Halloween, adoptions through Dallas Animal Services will be free for all pets. Potential adopters can preview available dogs, adopt online, or view shelter in-person hours and locations at BeDallas90.org. All pets come spayed or neutered, current on vaccinations, and microchipped.
At the Fort Worth Animal Shelter, adoption fees will be waived for large dogs over 40 pounds. For more information, visit https://www.fortworthtexas.gov/departments/code-compliance/animals.
Texans not able to commit to adoption can still make an impact by temporarily opening their home to a DAS foster dog. DAS offers long and short-term foster opportunities, and fosters do not have to live in Dallas. Fosters should, however, live within driving distance to the main shelter in case of emergencies.
Apply to be a foster and learn more about the opportunities at DAS at BeDallas90.org/foster.