A former Dallas police officer who was accused of capital murder is now suing the detective who accused him.
According to a lawsuit filed in federal court in Dallas on Thursday, Bryan Riser is seeking compensation on lost wages, mental pain and anguish and legal fees. The lawsuit does not name an amount.
Riser was fired from his job as a Dallas Police officer and jailed for a month in March 2021 when he was accused of ordering two murders.
He was released after a judge said there wasn't enough evidence to go to present the case to a grand jury. The capital murder charges were also dropped.
The lawsuit claims that Dallas police detective Esteban Montenegro violated Riser's civil rights by falsely arresting and jailing him.
According to the our content partners at the Dallas Morning News, a lawyer for Montenegro could not be reached Thursday.
Montenegro was the lead detective in the two 2017 murders and pursued a tip of Riser's alleged involvement.
Local
The latest news from around North Texas.
However, the lawsuit states that tip came from a suspect linked to five murders and a fellow officer even shared concerns that this suspect was unreliable and had a habit of deceiving police.
Still, a case was brought against Riser.
On the witness stand last April, Montenegro admitted that the arrest affidavit that claimed cellphone evidence that placed Riser near one of the killings was "a mistake."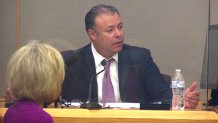 The lawsuit also claims that the Dallas County District Attorney's Office told the detective there was no probable cause to arrest Riser more than a year before he was arrested.
The detective has been on administrative leave from Dallas PD since December.
A criminal investigation into how he handled riser's case is underway, with court records showing two felony cases against Montenegro of tampering with records and perjury.
The Dallas County DA recused his office from that investigation and now the Kaufman County District Attorney's Office will decide whether to present the cases to a grand jury.
Riser still maintains his innocence and has made attempts to get his job back.
This latest lawsuit could bolster that effort.
Copyright The Dallas Morning News