Former Dallas County Schools Board President Larry Duncan pleaded guilty to federal tax evasion Monday in connection with the corruption case that brought down the agency last fall, NBC 5 Investigates has learned.
With his wife and two family members sitting in the front aisle, Duncan, who led the DCS board for more than a decade, stood before U.S. District Judge Barbara Lynn Monday morning and said, "guilty your honor."
Lynn set sentencing for March 8. With the plea deal, Duncan could spend a year behind bars.
Duncan resigned from DCS on May 17, 2017 amid ongoing investigations into a multi-million budget gap, the agency's controversial stop-arm camera program and a sale-leaseback land deal that will cost taxpayers millions.
DCS once managed school bus service for 12 North Texas communities -- all of whom were left to find new bus providers or begin their own service after Dallas County residents, after seeing more than 100 reports filed by NBC 5 Investigates, voted to shut down the 172-year-old agency in November 2017.
Local
The latest news from around North Texas.
In papers filed Monday, federal prosecutors say Duncan used more than $184,000 of the $245,000 in campaign contributions he received to pay for things that were not related to his re-election bid. That included making car payments for his wife and withdrawing cash from his campaign account to pay for personal expenses.
NBC 5 Investigates began questioning those campaign contributions last year and we discovered Duncan received nearly a quarter of a million dollars in contributions from people connected to one company - Force Multiplier Solutions - the school bus camera company that had millions of dollars of DCS contracts.
Duncan insisted all of his campaign donations were legal.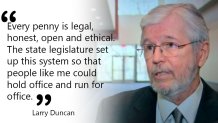 Prosecutors said Duncan did not report that money as income on his taxes filed between 2012 and 2016 -- resulting in a loss to the IRS of nearly $40,000 Duncan has agreed to now pay plus interest.
In 2016 alone, prosecutors said Duncan received more than $112,000 from Leonard that he used for his own personal benefit and that he "knowingly and willfully filed a false and fradulent tax return for tax year 2016 by omitting the $112,179.84 in income he received directly or indirectly from Leonard during 2016.
The CEO of FMS, Robert Leonard, has already pleaded guilty to bribing other public officials to win those contracts -- including millions in bribes to former DCS Superintendent Rick Sorrells and hundreds of thousands in bribes to former Dallas Mayor Pro Tem Dwaine Caraway.
Our cameras spotted Duncan at the federal courthouse this morning where he is expected to appear in front of a judge -- he has agreed to a plea that could put him in prison for up to one year.
NBC 5's Jack Douglas Jr and Frank Heinz contributed to this report.