One person is dead and a Forest Hill police officer is recovering at home after a shooting early Wednesday morning.
Forest Hill Officer Naqirra Williams, 24, was released from the hospital and is resting comfortably at home, the police department said Thursday.
"We are extremely grateful for the continued prayers and support as she works through her recovery and we look forward to having her back on the street, protecting our community," the police department said.
The person believed to have shot the officer was found deceased following a short chase in the officer's patrol car.
Forest Hill police said the shooting took place at about 2:30 a.m. on the 6600 block of Forest Hill Drive. Police have not yet said what led to the shooting or what interaction the officer may have had with the unnamed suspect prior to the incident.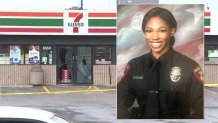 For all of Wednesday morning, part of the parking lot along the 6600 block of Forest Hill Drive was closed off by crime scene tape and evidence markers.
Local
The latest news from around North Texas.
Forest Hill resident Cathy Wise was passing by the shopping center when she noticed all of the police activity.
"I've seen chaos. I can't believe all the stuff that's going on around here," Wise said. "I just saw all the lights and everything's taped off. I just hope that police officer's going to be fine."
Across the street at the 7-Eleven, store worker Thoal Lul recalled the moment gunfire rang out. Glass on the front doors appeared to have been damaged by gun shots and there were multiple evidence markers on the ground in front of the store and in the street.
An SUV appeared to have been appeared on the street.
"I just duck. We all duck and tried to scatter and then boom! One shot hits and then another three – boom, boom, boom," said Lul.
Police did say that after the shooting, the suspect, whose identity has not been released, took the officer's patrol car and led police on a short chase to U.S. Highway 287 and Interstate 30.
The suspect, police said, was later found deceased. Officials have not yet said how the person died.
Dennis said the Forest Hill Police Department requested the Texas Rangers take over the shooting investigation and that they are doing so with the help of the Fort Worth Police Department.
The investigation into the shooting is ongoing and no other information has been confirmed.
Check back for updates. As this breaking news story unfolds, elements may change.