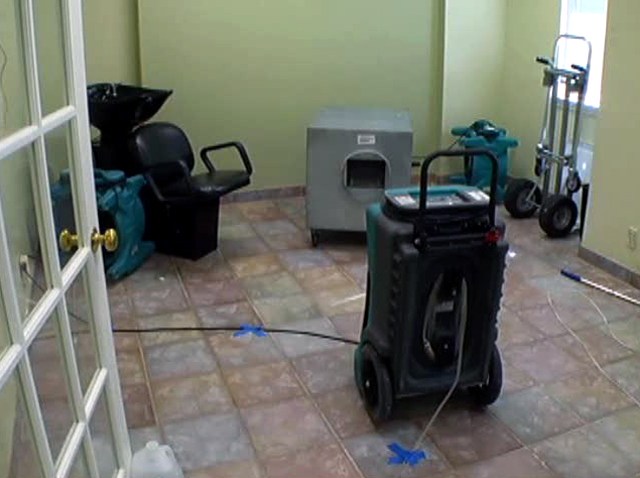 Plumbing companies say frozen pipes are a big problem after two weeks with several days of freezing temperatures in North Texas.
Several companies are reporting heavy business with calls for ruptured pipes.
Some are cases of improper protection from the freezing weather, but other victims say they are not to blame.
Local
The latest news from around North Texas.
The Chez La Femme Hair Salon on Lamar Boulevard in Arlington is littered with fans after it was flooded Saturday.
Stylists are doubled up in what little space remains usable after most of the place was heavily damaged.
"Every day that we're not operational is one day that this salon is closer to closing its doors," owner Lisa Hulse said. "This is catastrophic, what happened."
The electricity was disconnected in vacant offices on the second floor above the first-floor salon, so there was no heat to keep pipes in the second-floor attic from freezing.
"There should have been either the water turned off by the property owners or heat turned on," stylist Tina Yanick said.
Her rented space is one of several that were totally ruined after the pipes thawed and ruptured on the second floor and then filled the first-floor areas with 6 inches of water.

"I just remodeled it," Yanick said. "I had carpenters and decorators and everything come in, and I basically have to start all over again from scratch."
Hulse blames the landlord, SCM Real Estate Services.
"I'm very angry about it, because I felt like they should have taken a more proactive approach," she said.
Brett Messer of SCM Real Estate Services said the lack of power in the space above is to blame for the flooding. He said his company is working to help the salon recover.
In Frisco, a homebuilder blames building codes for a flood that heavily damaged an expensive sports car in the garage of a very large home.
The city requires sprinkler systems that include a garage in homes of than 6,000 square feet.
"So we have competing forces here," said Barry Hensley of Hensley Premier Builders. "We've got the weather saying we're going to freeze the pipes, and we've got the code saying we've got to put them in."
Phil Crone of the Homebuilders Association of Greater Dallas said the association has been lobbying to change rules in many communities that require sprinklers in an unheated area.
"In fact, a local sprinkler company told me, out of 7,000 installations that they have across the Metroplex, that they've had 90 instances from the last thaw that have required service," he said.
"Aside from kitchens, garages have a great potential for being a source of fire in homes," Frisco city spokeswoman Dana Baird said in a statement. "Sprinkler systems are designed to prevent the spread of fire, which can save lives and property."
"People don't typically live in the garage," Crone said. "We would encourage the cities in the area to no longer require sprinklers into the garage."
The city statement said Frisco sprinklers in low-temperature areas must be anti-freeze or "dry pipe" systems designed not to freeze or must have heating installed to keep the space above 40 degrees.
But Crone and Hensley said Frisco code includes no such freeze protection for home sprinklers, and they provided a copy of the Frisco rules.