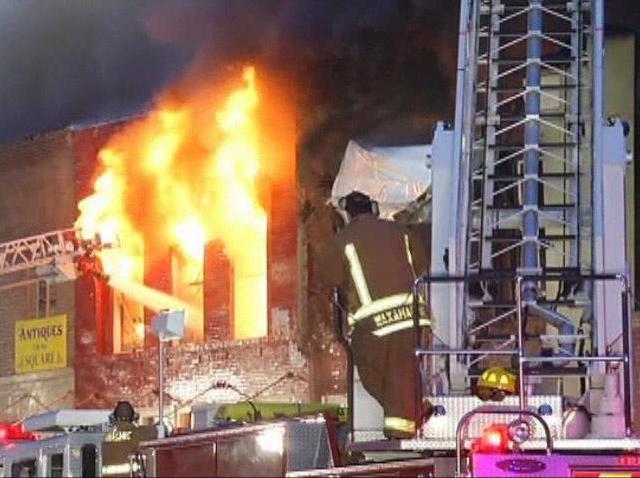 Fire ripped through three historic buildings in downtown Waxahachie early Tuesday, filling the air with thick smoke and fog.
Flames were first reported shooting out the roof and windows of the 1879 Chisholm Grill shortly before 4 a.m. By 9 a.m., firefighters from Waxahachie and several nearby cities were still battling the fire, which proved hard to control. By 11 a.m., the fire was mostly out with firefighters working only to tap out a few hot spots.
A narrow alley behind the strip of buildings on the town square prevented firefighters from getting equipment behind the buildings, allowing the fire to spread, according to Waxahachie Fire Chief David Hudgins.
Local
The latest news from around North Texas.
Once the ceiling collapsed, fire spread through the attic to the McGuire Law Office adjacent to the restaurant. Firefighters were unable to keep the fire from spreading to a third building, which was also destroyed. A fourth building suffered smoke and water damage.
"It means my whole life. This is the only job I've had in 40-something years. I don't feel good at all," said Raul Garcia, owner of White House Barber Shop and the adjacent building that houses Bella-Misty Antiques & Collectibles.
A lot of the restaurant's long-time customers could only stand by and take photographs as the historic structures burned, and then crumbled to the ground. They expressed their sadness over the loss of all the memorabilia inside the restaurant that documenting decades of memories.
"Just a lot of memory, a lot of history, and things going up in smoke. It's just sad," said Debra Moore.
The current owners, Scott and Stephanie Otto, said they bought the restaurant only three weeks ago, fulfilling Scott's dream of owning a restaurant.
"It's devastating. I mean, we've put our whole savings and everything into this, just to get it up and going. To get a call at 3:30 in the morning that our building is on fire is quite a shock," said Scott Otto.
According to the restaurant website, the building dates back to the 1800s and was turned into a restaurant in the 1920s. 1879 Chisholm Grill was included in the National Historic Register in 1975.
There were no reported injuries associated to the fire. The Red Cross is providing relief to tired firefighters who fought the fire for several hours.
Investigators have not yet determined the cause of the fire.