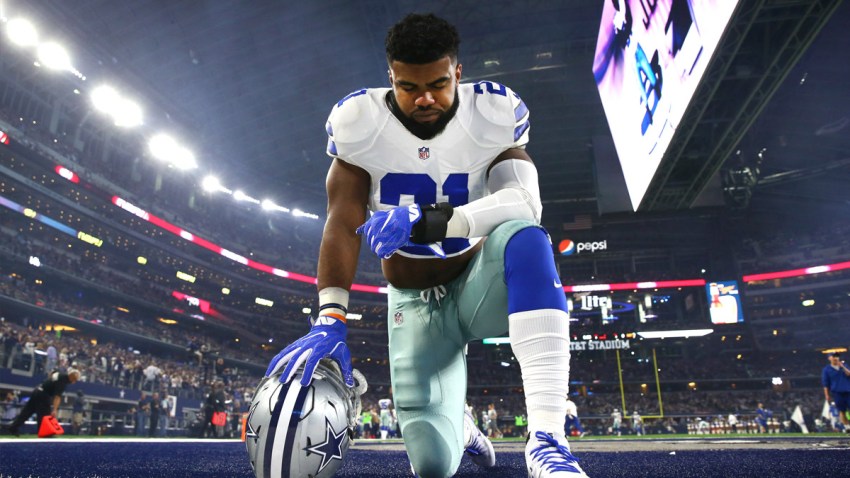 Ezekiel Elliott moved stealthily and purposefully through the Dallas Cowboys' expansive locker room Thursday afternoon a few minutes before reporters must leave.
Still wearing a white No. 21 practice jersey and blue sweatpants, it was clear Elliott didn't want any attention. He appeared for less than 30 seconds before darting around a corner and out of sight.
That Elliott is keeping a low profile should surprise absolutely no one.
Local
The latest news from around North Texas.
On Friday, Elliott will find out whether a U.S. District Court will grant his request for a temporary restraining order and injunction to prevent the NFL's six-game suspension for violating the personal conduct policy.
If he gets a temporary restraining order, then Elliott will probably play the entire 2017 season as the NFLPA and NFL wage a legal fight. If the TRO isn't granted, then the suspension is expected to start on Sept. 11 and Elliott will miss weeks 2-8.
While drama swirls around Elliott off-the-field, it's not having any tangible effect on the second-year running back, who set franchise rookie records with 1,631 yards on 322 carries and 15 touchdowns.
Not in the locker room. Not in the meeting rooms. Not on the practice field. And it doesn't matter whether you're talking to starters — offense or defense — coaches or members of the front office they all say the same thing about the 22-year-old running back.
They insist he's the same fun-loving, goofy dude in the locker room, cracking jokes and smiling wherever he goes. They say he's the same hard-working grinder on the practice field.
"He's in meetings and next thing I know he's in a courtroom," tight end Jason Witten said. "I think as a veteran player, when the young player had that approach, does those things, it makes it easier for all of us to kind of move forward.
"This team's been through a lot. There always seems like there's something going on. You look at last year with the quarterback situation, and I truly believed we became close through those processes and those experiences."
Still, Witten can't tell you what Elliott thinks about, when he leaves the Cowboys' training facility and he's alone with his thoughts. No one can.
All Elliott's teammates can do is judge what they see.
"The moment he walks in here, he's locked in and football is the only thing on his mind," quarterback Dak Prescott said. "I can tell you when he's in here and he's in this locker room or he's at practice or in that film room, none of the outside world is going through his head.
"I can't get in somebody else's mind. I can't tell you what he's thinking or how he's doing, but I know he's being positive."
That's good because the Cowboys will need Elliott at his best to beat the Giants. Understand, the Cowboys averaged 26.3 points per game during the 2016 regular season, fifth in the NFL, but managed just two touchdowns in eight quarters against the Giants.
Elliott gained 158 yards on 44 carries, a 3.6 average, against New York. His 51-yard performance in the opener was his lowest total of the season by 29 yards.
The Giants controlled him because defensive ends Jason Pierre-Paul and Oliver Vernon play the run well and safety Landon Collins is an excellent tackler. The key, however, is 341-pound defensive tackle Damon Harrison, an immovable object who clogs the middle.
Still, Elliott's getting the ball, regardless of whether he's playing next week against Denver or serving his suspension. Last season, Elliott was the only runner in the league with more than 300 carries.
"We wear him out when he plays any game anyway, so it doesn't have anything to do if he's available the week after," offensive coordinator Scott Linehan said with a smirk.
Plus, when Elliott's in the game, the play-action passing game becomes considerably more dangerous. A fake toss to Elliott resulted in a 31-yard touchdown pass to wide-open Terrance Williams for the Cowboys' only touchdown in a 10-7 December loss to the Giants.
"You all know how important his impact on our team has been last year," said Linehan, "and obviously having him available and ready to go is significant."
Especially, since it might be the last time we see him in the locker room or on the field for a long time.