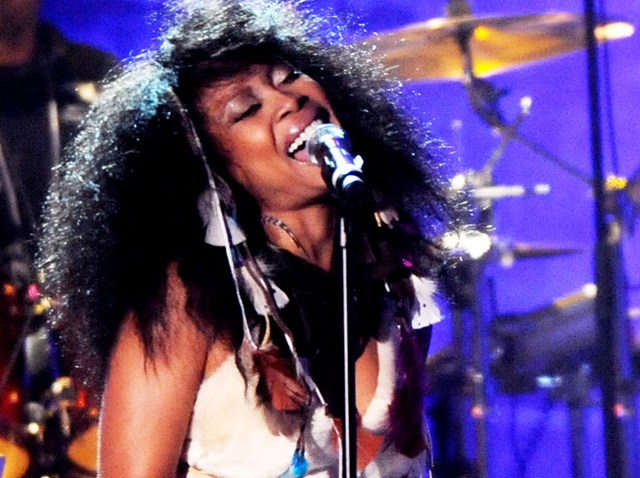 The controversy surrounding Erykah Badu's Dealey Plaza video shoot doesn't seem to be affecting her record sales, at least judging from the crowd at a record signing on Saturday at Good Records in Lower Greenville. Dozens of fans showed up to pick up one of her CD's and to get a chance to meet Badu face to face.
The moment she stepped out of her car, the questions started to flow, but Badu only spoke when necessary-- ignoring a swarm of reporters and any reference to the racy video she shot in Dealey Plaza last month. Instead she was focused on the moment the crowd at Good Records had been waiting in line for all day Saturday.
Badu's fans greeted her with cheers. Sammie Johnson was the first in line to meet one of his favorite artists and was more than happy to get his Erykah Badu CD signed by the artist herself. He says he waited in line for hours to show his support for Badu.
Local
The latest news from around North Texas.
"I just know I'm a big fan of Ms. Badu," Johnson said. "I understand the controversy involved, but me personally, I'm all for it."
Other fans, like Kelsey Mclain felt the same, but could see why Badu will receive a citation from the city of Dallas for disorderly conduct.
"I love Erykah Badu, but she did break the law," said Mclain. "But other than that its $500 and its Erykah Badu. Its nothing to her!"
Badu's appearance didn't go off without at least one protester with picket sign in hand, ready to voice his opinion.
"We're very concerned that Dallas not become the city of "'frump,'" said Tim Cloward, President of the Anti-Frumpery League of Dallas, an organization he started three hours before Badu's appearance. Cloward was actually there to support Badu.
"We support Erykah Badu as a provocative, contemporary artist with a lot to say. The attacks on what she has done are attacks on artists in general," he said.
At least for Saturday, Badu could forget about the controversy, the citation and the critics, and just focus on her fans.