Eight people have been arrested in Oklahoma in connection with the report of a missing 15-year-old girl from North Richland Hills police now say was being trafficked for sex.
Investigators in North Richland Hills confirmed to NBC 5 Tuesday the girl attended a Dallas Mavericks game on April 8 and that after getting up from her seat to use the restroom alone she never returned.
"She apparently left with two males from there," Gary Knight with the Oklahoma City Police Department said Tuesday. "We later found out she was being sex trafficked online. We had pictures of her. We put those out there to the media and that was going on here in OKC."
Knight, a public information officer with the police department in Oklahoma City, said investigators spent days trying to locate her.
"We renewed our plea to the public through the news media yesterday," he said. "It's important to note, there's no indication right now that this was some kidnapping where someone is grabbed and thrown into a vehicle or something like that. It's unclear exactly why she went with these men, but there were apparently two people she left with from the basketball game."
KFOR-TV in Oklahoma City picked up the story on the missing girl and shared her photos, which police said led to a viewer tip that she had been seen in an apartment complex.
"If something seems out of place, it doesn't have to go through the lengths of your child being missing…but if something seems out of place, just err on the side of caution and call 911. Let us take a look at it," Knight added.
Police followed up on the lead and found the missing teenager. Eight people were arrested, including Kenneth Nelson, Sarah Hayes, and Karen Gonzales, all of whom were all charged with human trafficking and the distribution of child pornography. The other five people were arrested on either outstanding warrants, rape, or prostitution charges. Details of those arrests are below.
Saniya Alexander (Felony Warrant)
Melissa Wheeler (Robbery Warrant)
Chevaun Gibsion (Offering to Engage – Prostitution)
Kenneth Nelson (Human Trafficking / Distribution of Child Porn)
Sarah Hayes (Human Trafficking / Distribution of Child Porn)
Karen Gonzales (Human Trafficking / Distribution of Child Porn)
Thalia Gibson (Felony Warrant)
Steven Hill (Rape II)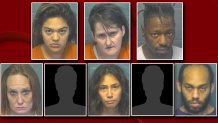 Because the teen is both underage and an apparent victim of sex trafficking her name and photograph have been withheld from this story.
Local
The latest news from around North Texas.
Last year, there were more than 16,000 victims of human trafficking identified in the U.S., many of whom were kids.
As the human trafficking outreach coordinator for Mosaic Family Services, Noel Mendoza recommends parents first educate themselves and then sit down for an open conversation with their kids.
"In the majority of cases, the trafficking and the grooming process, and the means of control that traffickers exert are more subtle, right? They look like promises. They could be a promise of a lifestyle. It could be promises of romance, promises of love, and a family figure," said Mendoza.
Mosaic is part of several alliances like the North Texas Coalition Against Human Trafficking and the DART Anti-Human Trafficking Coalition working to curb Dallas' illegal sex trade, which generates an estimated $99 million in illicit funds.
Texas is believed to be home to 79,000 youth sex trafficking survivors, the youngest of whom are seen by Dallas CASA.
"It's also very important to be aware of what your child is doing, the places that they're visiting, the friends that they're hanging out with. If you notice that your child has new clothing or designer clothing, or they have money that you did not give them or a cell phone that you did not purchase, these are red flags for you to start saying, Okay, where did this come from?" said supervisor Gabriela Validez.
That's just the start of the comprehensive response advocates say is needed to curb a problem that continues to grow.