A man with a history of DWI convictions is expected to face felony charges in a wrong-way crash that killed former Dallas City Councilwoman Carolyn Davis Monday night and left her daughter critically injured, police say.
According to police, the driver of a blue Mazda SUV, identified by police as 36-year-old Jonathan Moore, was traveling eastbound in the westbound lane of the 2400 block of E. Ledbetter Drive at about 7:45 p.m. when he collided with an oncoming gray Cutlass Ciera driven by former Dallas City Councilwoman Davis.
NBC 5's partners at The Dallas Morning News reported that in an early-morning email sent to city officials, Dallas police Maj. Michael Igo confirmed that the former South Dallas council member "was tragically killed" in the two-car crash.
Davis' 26-year-old daughter, Melissa Davis Nunn, remains hospitalized in critical condition at Baylor Medical Center in Dallas. Their pastor said Nunn was on life support.
Rev. Jerry Christian, the leader of Kirkwood Temple CME Church, said the mother and daughter were regulars at Sunday worship and Wednesday Bible study.
"Carolyn was a very compassionate, caring person. She cared deeply about the poor, the homeless," Christian said.
Davis was elected by her neighbors to four terms on the Dallas City Council, from 2007 to 2015, serving a district that includes the South Dallas and Fair Park areas.
Even after she left the council, Christian said Davis helped her community solve problems.
"That's just who she was," Christian said.
While Moore's current condition is not known, his injuries are not believed to be life threatening.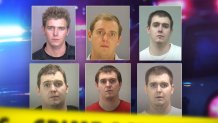 Moore has not yet been charged in the case, but Dallas police told NBC 5 they expect to file three new felony charges against Moore for DWI, intoxication manslaughter and intoxication assault. Dallas police have not yet confirmed the cause of the crash or whether Moore was intoxicated at the time of the crash.
Local
The latest news from around North Texas.
Moore has a long criminal history, including at least three previous convictions for drunken driving, driving with a suspended license and theft.
NBC 5 has learned on July 11 Moore completed a probated sentence for a previous DWI conviction and a breathalyzer device on his car was removed as well as a transdermal alcohol monitor worn on his ankle.
Christian said the facts about the suspect make the tragedy even more upsetting for people who knew the victims.
"It's sad, and I'm furious that we continue to let these kinds of things happen. Drunk drivers should be off the street," Christian said.
Efforts to reach Moore's family in Irving were unsuccessful Tuesday.
Davis pleaded guilty to a federal bribery charge in March. She was accused of taking $40,000 in payments for votes on a city-funded affordable housing project. Her sentencing was scheduled in September.
NBC 5's Ken Kalthoff, Brian Roth and Eline de Bruijn contributed to this report.