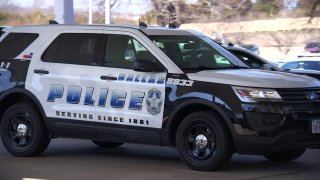 A 44-year-old man was killed Friday afternoon at his South Dallas home, police say.
According to police, officers were called about 5:20 p.m. to a residence in the 2700 block of Elsie Faye Heggins Street.
Witnesses told police that the victim got home, parked his brown 1982 Buick in the driveway and went inside. The witnesses heard two gunshots and saw a man leave the house and drive off in the victim's brown 1981 Buick Regal, police said.
Officers went into the home and found Rayford Mack, 44, with a gunshot wound. He was pronounced dead at the scene.
Police have not confirmed a motive in the shooting. No arrests had been made as of Saturday morning.
Anyone with information about the shooting may call Detective David Grubbs at 214-671-3675 or email david.grubbsjr@dallascityhall.com.
Crime Stoppers will pay up to $5,000 for information leading to an arrest and indictment. Tips may be made by calling Crime Stoppers at 214-373-8477.