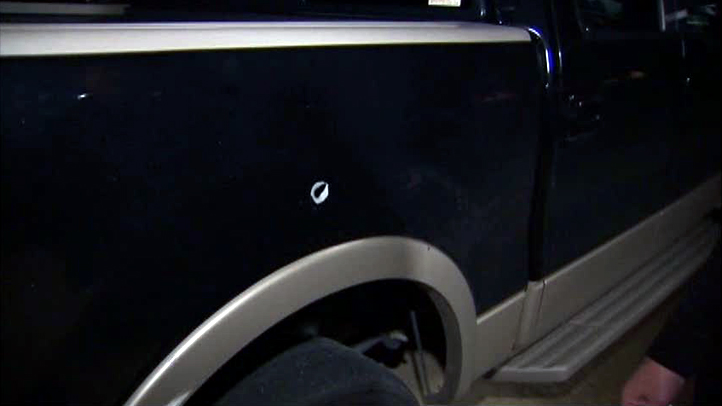 Police are looking for a driver who shot at a pickup truck in Grapevine earlier this week in an apparent act of road rage.
The driver fired at Mark Spinney's truck Wednesday morning off State Highway 121 and Bass Pro Drive while Spinney was driving to work.
Spinney, of Lewisville, said the driver didn't take kindly to his lane-switching on Highway 121.
Local
The latest news from around North Texas.
"As he gets behind me, he flashes his lights, so I get up to speed," Spinney said. "He's late, he's agitated, you know, I don't know -- [it could be] any multitude of things. I don't know exactly what's going on in his mind."
The driver started tailgating Spinney, so the Air Force veteran exited by Bass Pro Drive and stopped at the light. He saw the sport utility vehicle pull up next to him.
"I feel the tension," he said. "I feel the tension, and like I said, I don't want to make eye contact with him, but I'm watching him, and he's doing something on his lap, moving his hands around."
Sensing something bad, Spinney timed the stoplight cycle and sped through the intersection right before his light turned green, he said.
That's when he heard a loud bang.
"I'm thinking he threw a heavy object, it hit the truck, it made a big echo -- no big deal," Spinney said.
But when Spinney inspected the damage when he arrived at work, he saw a bullet hole in the bed of his truck.
Grapevine police think it was a .45 caliber bullet that pierced two layers of metal and hit the backside of the passenger cab. Had the bullet gone through the last layer if metal, it would have hit the driver's seat in the back.
"They say life's a game of inches," Spinney said. "I mean, literally 24 inches higher, that goes through that window and into me."
Grapevine police are looking for a driver in a white or pearl-colored late model SUV. It had black rims and blue-colored halogen headlights.
If you saw the vehicle driving on Highway 121 in Grapevine, call police.