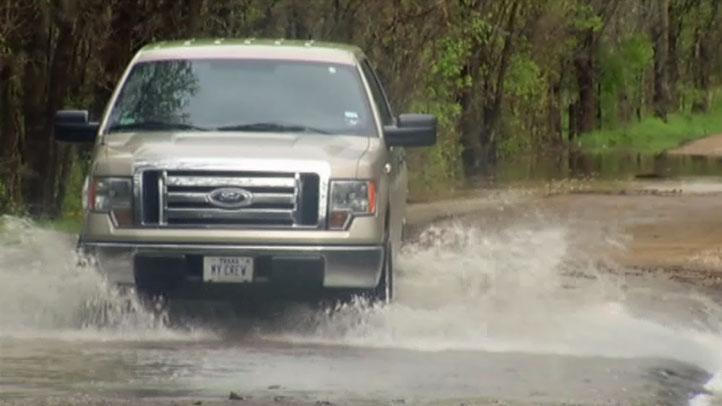 High water is receding after heavy, soaking rains Monday and Tuesday drenched North Texas.
Several inches of rain fell across the area, with some spots getting more than 5 inches. The water was still flowing into streams and making its way into area lakes Tuesday evening.
Dallas County
Local
The latest news from around North Texas.
The Trinity River in Dallas could rise another foot or two before it crests Tuesday night. But the river is well within the levees in Dallas.
While Dallas saw plenty of high water, the city did not see flooding in homes.
The areas around White Rock Creek that often flood did so overnight. Floodgates were closed in several places to keep people away.
And the new Northwest Highway bridge over White Rock Creek performed exactly as it should. It kept traffic running smoothly over the high water, unlike the old Loop 12 roadway that often flooded.
But Dallas officials said they were glad the rain ended when it did, because things could have been much worse with just a little more rain.
South Grand Prairie saw some storm damage, but no flooding at Joe Pool Lake.
Lake Ridge Parkway was closed to traffic going in both directions south of Camp Wisdom. The street is being widened, and drainage improvements are a part of the widening project. The contractor is making temporary storm drain improvements to keep flooding from happening again.
Bob McGlothlin, lake parks superintendent, said the level of Joe Pool Lake rose by 2 feet, well below its worst-case scenario. The lake has only had one major flood since it opened in 1989.
"Surprisingly Joe Pool is a very stable lake," he said. "When every other lake in the area starts getting a whole lot of water in it, we'll get some, but it doesn't rise too much."
In Garland and Rowlett, several roads remained closed Tuesday afternoon, but no houses or businesses reported damage.
Springfield Park off Highway 66 and Dexham Road in Rowlett was underwater. Fire officials said it typically floods in heavy rain because of its low-laying area and its proximity to Rowlett Creek.
Nearby, heavy flooding also shut down the street at Castle Drive and Hickox Road.
Rowlett Creek caused trouble in Garland, where emergency officials warned residents to stay away from Campbell Road between Brand Road and Oak Drive, where water was rushing over the roadway. Miller Road between Dexham and Centerville was also closed.
Collin County
Collin County reported 32 county roads closed because of high water, damage or flooding on Tuesday afternoon.
"The main problems are washouts," said Jon Kleinheksel, county public works director. "We did have roads with water over the roads. We had some trees and branches down in the unincorporated areas that we had to pick up."
Kleinheksel said between 3 and 5 inches of rain fell in different parts of the county.
County officials said they hope the area gets a chance to dry out over several days without rain.
"The ground is completely saturated in the unincorporated areas," Kleinheksel said. "Anything additional that we have right now will create additional problems and mean we had additional roads to address."
The latest road closure information can be found on the county's website and Facebook page.
Denton County
More than a dozen roads were blocked off because of high water in Denton County, where many homeowners spent the day cleaning up a mess.
Roadblock signs dotted county roads. Most drivers found ways around the high water, while others went straight through it. In some spots, homeowners were trapped between barricaded roads.
Cars, people and even animals spent the day wading through leftover water.
"It [the rain] causes quite a bit of problems for our horses," said Copper Canyon resident Aaron Menard said, who used an electric pump to get water out of his pasture.
He said he believes construction in the county also created problems with runoff water.
"That's why the rain piles up so much, especially when we have rains like we did last night," Menard said.
As he remembered the storm, he said things could always be worse.
"Luckily, we made it through, and within a few days, this will all be pumped out," Menard said.
NBC 5's Ken Kalthoff contributed to this report.