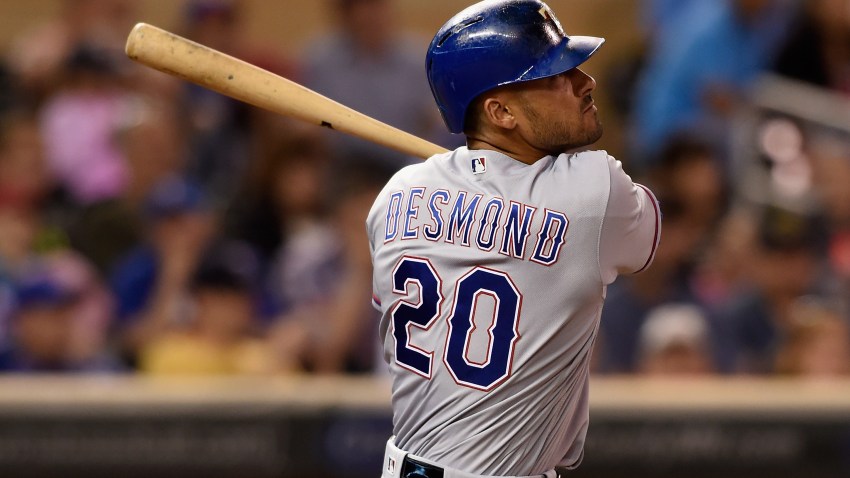 "Pay that man his money."
That line from the movie "Rounders" could soon be referenced to Ian Desmond.
The Rangers centerfielder is having an All-Star caliber season, all while working on a one-year deal. Desmond was signed prior to spring training to play left-field while Josh Hamilton worked his way back from knee injury. Funny how quickly things can change.
Local
The latest news from around North Texas.
Hamilton's done for the season and Delino DeShields, who started the season in center, was later optioned to Triple-A Round Rock after struggling early on. Desmond took over in center and never looked back.
Desmond is hitting .317 with 15 home runs and 52 RBIs as we get closer to the All-Star break. He's tied with Rougned Odor for the team lead in homers and with Adrian Beltre in RBIs. His versatility has allowed him to hit in various spots in the batting order during the season, a majority of time in the middle of the lineup.
Desmond has remained clutch for the Rangers, with Friday night's game against the Twins the prime example. Leading off the 10th in a 2-2 game, Desmond took a 1-1 pitch low in the zone and sent it over the right-center fence for what turned out to be the game-winning homer.
There is no doubt that Desmond deserves a spot on the All-Star team this year, which means he will finally get to play in the Midsummer Classic. Desmond was an All-Star selection in 2012 as a shortstop for Washington, but missed the game due to an oblique injury.
Desmond rejected a $15.8 million qualifying offer from the Nationals and was a free agent until signing that one-year, $8 million contract with the Rangers. Despite his slow start in the beginning, this is starting to look like the bargain of the year.
So here's a question being asked with all the talk going into the trade deadline this month, would you listen to offers for your one-year rental knowing the talent you have stockpiled in the system? I wouldn't expect a move since the Rangers have the squad to finally get that World Series title this time around.
Plus, Desmond brings an intangible to this team that's hard to replace, his hard-nosed attitude. Desmond has that football player intensity and mentality, the type that will run through a brick wall to get an out. You cannot teach that.
One-year deal or not, the Rangers are getting their money's worth from Desmond. Whatever happens after the season can wait.