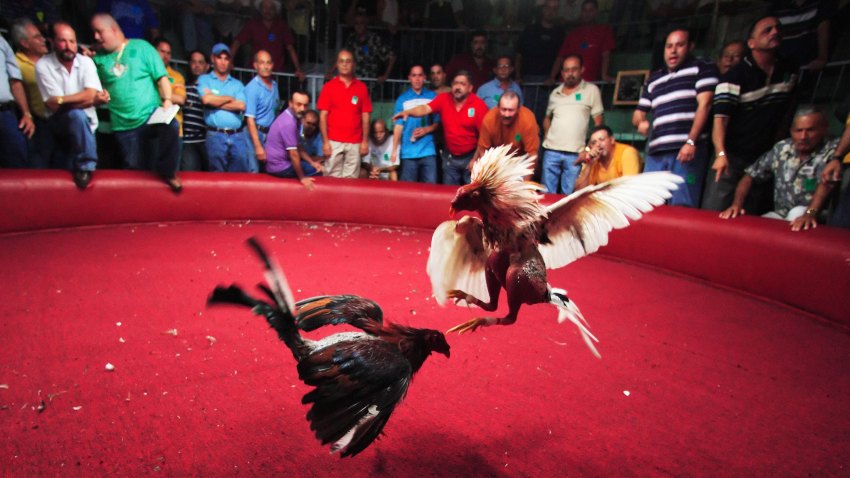 The Society for the Prevention of Cruelty to Animals of Texas said it and sheriff's deputies busted a cockfighting ring in the small town of Emmett on Saturday afternoon.
Maura Davies of the SPCA said Navarro County sheriff's deputies went to a home in the 18300 block of Farm to Market 774 at about 3:30 p.m. after receiving an anonymous tip.
Deputies said a fight in progress when they arrived. About 30 people ran away into the woods near the rural property when deputies pulled up, they said. Authorities were still able to detain about 40 of the 70 people they believe were watching the fowls fight.
Local
The latest news from around North Texas.
Officials anticipated a large crowd and brought along a mobile courtroom and a judge to process misdemeanor illegal gambling charges.
The owners of the operation have not been found, deputies said. When they are located, they'll likely be charged with cruelty to animals, deputies said.
Authorities found 150 birds alive on the property. The SPCA will house the birds until a Navarro County judge can hold a custody hearing.
Fifteen dead roosters were found.
The incident is not the first cockfighting bust in Navarro County.
Deputies deputies arrested nearly 200 people in March 2008 after raiding a large cockfighting arena about four miles west of the community of Emhouse.
Just last month, more than 100 people were arrested in Parker County after investigators there raided a rooster fight. Sheriff's deputies said the group gathered in a rural area north of Weatherford near Poolville.
Deputies there found more than 100 birds, some of which were badly injured or dead.
The deputies also found drugs and children who were abandoned by fleeing parents as officers raided the scene. The children were taken into the custody by Child Protective Services, and dozens of adults were sent to jail.
Cockfighting is illegal in Texas. Some cockfighting rings, such as the one raided Saturday -- are elaborate with large arenas, bleachers and rooms for chickens and handlers.
People travel from all over Texas, Oklahoma and Louisiana to place bets on cockfights. Charges can range anywhere from illegal gambling to cruelty to animals.
Emmett is located about 70 miles south of Dallas.