A 28-year-old man is behind bars following an aggravated kidnapping April 3 in South Denton, but police say the investigation is ongoing.
Arique Bagby, 28, was arrested Sunday afternoon after officers spotted him inside a BMW SUV suspected in three attempted kidnapping cases in Corinth and South Denton, a news release said.
According to police, the BMW X3 was stopped in the area of Old Alton Road and Teasley Lane and the driver, later identified as Bagby, arrested on a charge of driving while intoxicated.
On Saturday, Denton police said the investigation into the April 3 incident was still active and they are asking residents in the area of Del Mar Court or Montecito Drive, south of Hickory Creek Road, to check their home surveillance footage for a small silver SUV. Anyone with information may submit it on the Denton police evidence submission site.
Denton Deputy Chief Frank Padgett said Monday afternoon that Bagby used a gun to lure a woman into his vehicle in Denton and that she was able to escape the vehicle when he slowed down.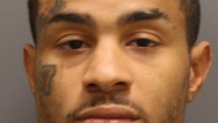 Padgett credited the community for responding to a description provided by the witness for leading them to their suspect.
Local
The latest news from around North Texas.
"This is a success not of the Denton Police Department, it's a success of the cooperation between the Denton Police Department, the Corinth Police Department and the citizens of those cities," Padgett said.
Bagby is being held in the Denton County jail on one count of aggravated kidnapping and one count of driving while intoxicated. His bail is set at $502,500.
The felony charge followed interviews and a review of the available evidence related to an incident in South Denton on April 3.
Padgett said if you're confronted by someone you should take whatever steps you can to make sure you aren't taken somewhere else.
"Once you allow someone to take you to a second location, that's when the most danger is posed. If you can run, scream for help, fight if you have to. But if you allow that person to take you somewhere else, that's where things go bad," Padgett said.
"We are just overjoyed that she is OK. This could have ended very tragedy. We're glad that it didn't and she had the presence of mind to say this is not going to happen to me," Padgett said.
Two additional attempted kidnappings in Corinth -- one the morning of April 3 and another on Sunday afternoon -- are under investigation and Bagby may face additional charges, police said.
Padgett said Bagby, who has a Lake Dallas address, has not been charged in any of the attempted kidnappings and that those investigations are ongoing and that, at this point, they can't definitively link him to those incidents.
According to records with the Texas Department of Public Safety, Bagby was convicted of aggravated assault with a deadly weapon in 2015 in Tyler for pulling a gun on someone while riding a bike. He was also convicted of burglary of a habitation and causing injury to either a child, elderly individual or disabled individual. DPS records show he was convicted of all three offenses and was released from prison in October 2020.
"It made me feel so relieved, it's still not safe for me to walk around by myself, but it feels so good knowing that he's not like out anymore," said a woman who lives in the area.
Several people took pictures and video of police arresting someone driving the SUV matching the description of three attempted kidnappings.
"He seems determined, I mean he's done it three or four times in the past few days, so I was worried that he would escalate if he got frustrated, so I'm glad he got caught when he did," said a man who recently moved to the area.
"My girlfriend is super active, so she likes to walk around and stuff and it's honestly terrifying to think this could be her while I'm at work," he said.
In the first incident, a woman told Corinth police she was running near Park Palisades and Oakmont drives at about 11:30 a.m. April 3 when a vehicle pulled up next to her. She told police the driver displayed a gun and told her to get in the car.
The woman ran away and found help at a nearby residence, police said.
Fifteen minutes later and three miles away, a second attempted kidnapping happened in the 2000 block of Del Mar Court, just west of Teasley Lane, Denton police said.
Police said a woman told them an SUV approached her as she walked her dog and the man driving displayed a gun before he told her to get in.
She got in the SUV, but escaped without being injured after a short distance, police said.
"I was going to go on a picnic with my friend last night at the lake dock and I canceled it because I was like, 'He's a mile or less than a mile from us, and who knows, he could come snatch us," said a woman who lives in the area.
The next day, Corinth police said man attempted to lure another female victim into his car at about 12:35 p.m. near Lake Sharon, between FM-2499 and Oakmont Drive. The suspect in Sunday's incident was wearing a hoodie, sunglasses and medical mask, and did not display a firearm but did try to make the victim get into his vehicle.
Anyone with information about the incident is asked to call 911 or Denton police at 940-349-7812.