Large crowds tend to get attention and that was the hope and goal outside Denton Guyer High School Friday when students and parents protested outside following a recent report of an alleged on-campus sexual assault involving two students.
Parents and students said young men at their school are getting away with sexual assault and the district needs to do a better job investigating the claims.
"I'm scared for our kids. I'm nervous about retaliation but there's safety in numbers and there's always hope," said Sandra Muscle, a parent who rallied with students at the school Friday.
Carrying banners and megaphones, hundreds of students and parents gathered Friday morning on the lawn in front of the large school on Teasley Lane. Following their rally, they began a march around the building and through the athletic grounds. The students then returned to the front lawn along Teasley before ending their protest.
It wasn't just students walking out of class, but parents took time off from work to stand up and say the school needs to do deeper, better investigations into alleged sexual assaults on campus.
Jennifer Jenkinson said her daughter was sexually assaulted years ago and their pleas for justice were ignored.
Local
The latest news from around North Texas.
"The officers actually said to my husband, 'You've been a 14-year-old boy before' and my husband said, 'I didn't do this, did you?'" said Jenkinson.
This protest came a little more than a week after a 15-year old girl said she was sexually assaulted on campus by a 17-year old football player.
Female students took a megaphone and said "me too" outlining assaults that date back years and almost all involving athletes.
"Why was football more important than our voices? Even after the school finding out from the hospital, I believe, they still allowed him to play the game the next day," said Tehya Pitts, a student at Guyer.
The Denton ISD said this week that after being made aware of the alleged assault school officials were cooperating with law enforcement in their investigation and that "the timeline of this investigation has been set by the Denton Police Department."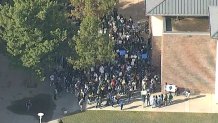 Denton police have only been able to confirm to NBC 5 that they are "thoroughly investigating a sexual assault report made by a juvenile student" but that the investigation is ongoing and that so far no charges have been filed.
School officials said they are working with the families directly involved to ensure the investigation's integrity and maintain confidentiality.
"While we cannot comment on the specifics of this police investigation, we want to assure our community that the safety and well-being of our students and staff is always our top priority," Julie Zwahr, chief communications officer for the Denton Independent School District said in a statement.
Though police and the school district say they are investigating, folks at the protest said there's a pattern of those investigations not resulting in charges.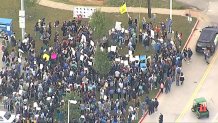 "It's very disturbing. My daughter knew about it back in 8th grade and the situation back then. It's sad to see that everything just gets swept underneath the rug," said Tom Muscle, parent.
Despite threats against them for leaving class, and whatever else may come, the students who demonstrated said they needed their voices heard, their faces seen, and their pleas addressed.
Denton ISD plans to issue a statement addressing the claims made Friday morning. We will update this story when we receive it.
Denton police said that should any charges be filed they will release more information at that time and that they appreciate patience while they investigate.