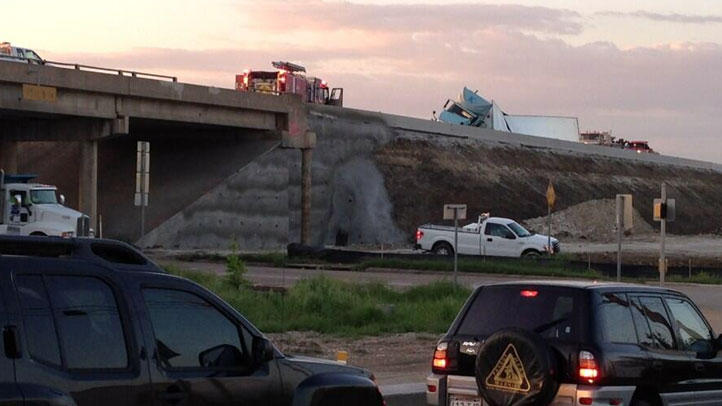 Major traffic issues on U.S. 75 are delaying drivers in Dallas and McKinney.
Southbound U.S. 75 lanes are closed in McKinney where a truck rolled over just north of Virginia Ave.
U.S. 75 is closed from U.S. 380 to Virginia due to that single vehicle accident. No one is reportedly injured.
Local
The latest news from around North Texas.
All southbound drivers on U.S. 75 are being forced off at U.S. 380.
In Dallas, road closures due to the dedication of the George W. Bush Presidential Center on the campus of Southern Methodist University may have drivers seeing delays or seeking alternate routes.
All streets around the Southern Methodist University campus are expected to busier than normal between Wednesday and Friday.
Drivers who use streets that border the campus of SMU and Mockingbird Lane near U.S. 75/Central Expressway are advised to find alternate routes Thursday. Additionally, the southbound Central Expressway frontage road between University Boulevard and Mockingbird Lane will be closed Thursday.
While Central Expressway will remain open Thursday, drivers should expect delays.
See the complete road closures for the Bush Center dedication event here: Getting Around Bush Center Traffic Delays
View updated Traffic information by following Samantha Davies on Twitter (@SDaviesNBC5) and searching hashtag #DFWTraffic
Tweets about "#DFWTraffic" !function(d,s,id){var js,fjs=d.getElementsByTagName(s)[0],p=/^http:/.test(d.location)?'http':'https';if(!d.getElementById(id)){js=d.createElement(s);js.id=id;js.src=p+"://platform.twitter.com/widgets.js";fjs.parentNode.insertBefore(js,fjs);}}(document,"script","twitter-wjs");