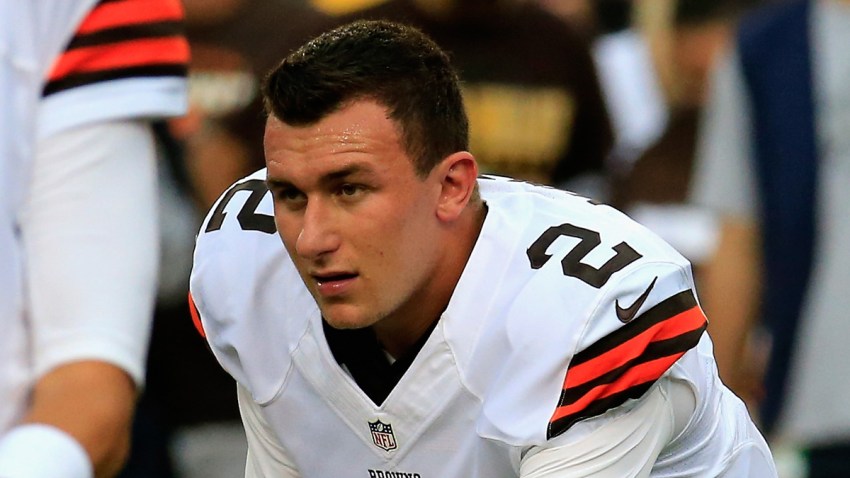 Dear Jerry Jones,
Let me get right to it, do not trade for/or sign Johnny Manziel once the Cleveland Browns cut him.
I understand you fell in love with the exciting play maker who dazzled the Cotton Bowl Classic crowd in your stadium a few years against the Oklahoma Sooners but he is not Johnny Football anymore.
Local
The latest news from around North Texas.
Johnny Manziel has become so toxic the Browns released a statement saying they are done with him and will cut him March 9.
Jerry, you were voted down by your own employees when it came time to draft Manziel. You will have a second chance to get your guy but you can't make the move because Manziel is not serious about being a football player.
Yes, you took chances on Pacman Jones, Tank Johnson, Alonzo Spellman, Greg Hardy and T.O. Not one of those players helped you win a championship. The last good gamble on a player with character issues that paid off with a Cowboys title was Charles Haley, but he came to town as a two-time Super Bowl champion from San Francisco.
Manziel has not shown anyone he cares about being a professional quarterback. The former Heisman Trophy winner has shown us he cares more about his nightlife than the film room. This is not what Cowboys head coach Jason Garrett needs.
If Manziel didn't care enough to put in the work to be the starting quarterback in Cleveland what makes you, me or anyone think he really wants to carry a clipboard backing up starter Tony Romo?
Jerry, you have to let go of the notion you can fix Manziel. Forget what he did at Texas A&M because college glory fades fast in the NFL. Manziel was in rehab last year and still has yet to let us know exactly what his issue or issues are. That should raise red flags.
You don't need to sell #2 jerseys. You make enough money. You saw the Hardy experiment didn't work last year. Stop taking players with issues Jerry.
Say no to Johnny Football again.
Sincerely,
Newy Scruggs