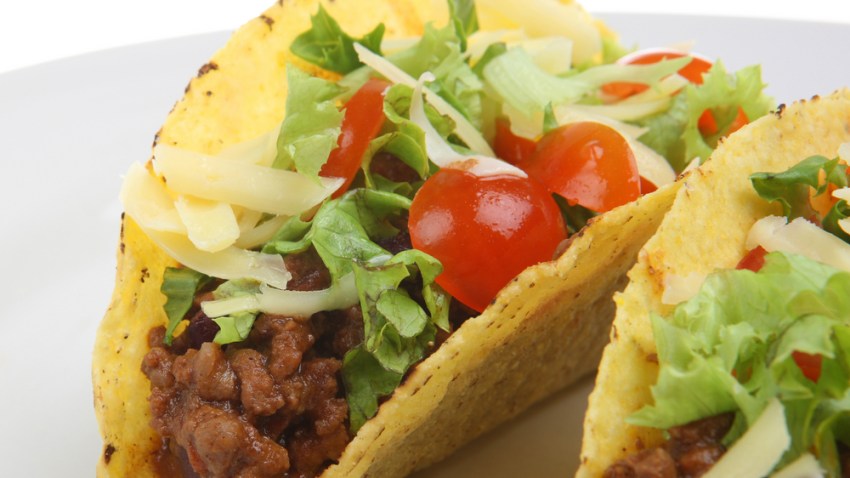 In tough economic times, frugal shoppers are looking for deals and smart business owners are giving them. Here are a few deals we've found for the week of Oct. 26 - Nov. 1.
Amy Yates-Garmatz has a ton of deals this week in her Penny Pinching blog. Find out more here.
HALLOWEEN & WEEKEND DEALS
Local
The latest news from around North Texas.
If you're going as a burrito for Halloween, be sure to head over to any North Texas Chipotle restaurant on Saturday night between 6 p.m. and close. Those dressed as a burrito will receive a free burrito. I challenge you to not go simply wrapped in tin foil ... you're better than that. If you're dressed as a burrito ... send us pictures here.
You do not need to dress like a taco to receive a free taco at Taco Bell. On Saturday, from 6 p.m. to midnight, Taco Bell is dolling out one free Black Jack Taco to anyone who wants one.
The North Texas Kids Family Expo will take place between 10 a.m. and 4 p.m. Saturday at the Plano Centre. The free event includes costume contests, trick or treating, live entertainment and more. There are also seminars for parents on healthy living, flu shots and more.
SONIC is offering 50 cent corn dogs on Oct. 31. from 5-10 p.m. at participating SONIC Drive-Ins. Parents can bring their trick-or-treaters to the drive-in for an affordable meal before they hit the neighborhood to get their sweet treats.
Joe Sian is offering free personal training for anyone 40 and over every Saturday in October at Trophy Fitness Club. It starts Oct. 3 from noon to 1 p.m. and is only for the month of October. Contact Joe 214-505-6429 or joesian@sbcglobal.net for more information or to RSVP.
Every Saturday has something different and interesting at the Uptown Village at Cedar Hill. Jazz, movies and car shows will feature attractions on different Saturdays in September. A schedule is available here.
Saturdays and Sundays at 11:45 a.m. and 4:15 p.m., The Legends of Texas Gunfight Shows take place at Stockyards Station in Fort Worth. The shows are free and attendees can learn about about the history of this part of North Texas between 1835 and the early 1900s.
MONDAY DEALS
Dunkin' Donuts is offering a medium coffee for only $.25 every Monday through the NFL season. The offer is good at most participating DFW locations from open to noon. Additionally, customers can redeem their Cowboys game ticket stubs at any Dunkin' Donuts location to receive a free medium hot coffee on weekdays after every home game.
Like a good steak? The Ranch Steakhouse in Cedar Hill is offering a buy one entree get one free on Monday evenings. A reservation is required by 6 p.m.
TUESDAY DEALS
Posadas is offering a free nacho bar Monday through Thursday from 4 p.m. to 7 p.m. The nacho bar includes beans, meat, queso, lettuce, tomato, salsa and one sopapillia.
On Tuesdays, shoppers older than 55 will be given 15 percent off their purchase at all Metroplex Catherine's Plus clothing stores.
WEDNESDAY DEALS
Enjoy a free game of bowling at the Allen Bowl on Greenville Avenue. The offer is good through the end of the year, though you will need to print out a coupon to receive your free game. You can get the coupon here.
Dos Pericos Mexican restaurant and cantina in Lake Worth offers all you can eat enchiladas (beef, chicken and cheese) plus rice and beans for only $6.99.
The Core Golf School at Chase Oaks in Allen is offering golf lessons for half price on Wednesdays as well as the ability to bring a friend along for free through the end of the year. Students can bring anyone they would like and get great golf instruction for the price of one. For more information email Rob Sanders at coregolfschool@yahoo.com or call 214-207-0625.
THURSDAY DEALS
Law Enforcement Counseling and Consulting Services are offering a free first counseling session for any law enforcement officer or military officer (current or retired) and 20 percent off every other counseling session after that. Call 817-283-5900 for more information.
Billy Bobs Texas offers free line dance lessons every Thursday at 7 p.m. Admission on Thursday is reduced until 8 p.m.
OTHER DEALS
Eating in Glen Rose? Stop by Three Rivers Fine Dining where one kids can eat free. For every adult entree purchased, one child can select an entree (less than $12) off of the menu.
Maggiano's Little Italy wants you to have leftovers "Today & Tomorrow." First, choose an entree from a special selection of items -- then Maggiano's will give you a second selection to take with you after your meal to enjoy as your dinner the next day. The promotion is available for dine-in only -- find out more on Twitter and Facebook. The offer is good through Nov. 25.
Through Dec. 31, Olive: the beauty lounge is offering anyone employed by the Mansfield ISD a $55 facial. The 1 hour customized facial (reg. price $80.00) includes double cleanse, skin consulatation, professional exfoliation, massage, mask and moisturizer. Proof of employment is required (school ID badge) to recieve the special. Call 682-518-1000 or visit their Web site for more information.
You can win a free cup of Brazilian Bold Coffee by playing a cheesy pick-up game on 7-Eleven's Web site. You have to score in the game to score the coffee. Estimated time it will take to earn the free cup: Less than 10 minutes. http://www.the711club.com/
The Theatre Communications Group is offering Free Nights of Theater. The City of Dallas Office of Cultural Affairs announced the Free Night of Theater will be held from Thursday, Oct. 8 through Sunday, Nov. 8. featuring more than 2,000 free tickets to more than 25 Dallas-area theaters. Tickets will be released in a staggered format with each weekend's ticket allotment being released on the Monday prior to the performance. Theatergoers can reserve tickets through the Free Night of Theater Web site here beginning at noon on Monday, Oct. 5. The complete list of release dates and performances can be found on the Dallas Office of Cultural Affairs Web site here.
All month long, with a minimum adult purchase of $6, two children can eat free at Boston Market. Kids must be present to eat free.
La Madeleine is offering a free pastry to customers who print out a coupon from their Web site. You can find the coupon here.
Danette's Urban Oasis in Fort Worth is offering specials on massages, manicures and pedicures. For example, a one-hour massage and manicure will cost only $40. call 817-882-8883 for more information.
Through the end of the month, sign up for children's classes at My Gym in Plano and pay your child's weight as the first month's tuition. The gym is for children ages 6 months to 13 years old.
United Carpet Cleaning Systems is offering 20 percent off any service that costs more than $150. Call 817-268-6531 for more information.
Curves is offering its 30-Day Diet Plan for free. No membership is needed you can call 1-800-520-8148 or fill out the form on the Curves Web site to find out about the next available free class. More information here.
You can check out 72 works of art from NASA including drawings and photographs of space exploration for free now through Nov. 22. For more information call the Irving Arts Center at 972-252-ARTS or check out IrvingArtsCenter.org here.
Medieval Times will throw you a birthday party featuring a free feast and tournament on your birthday, all you have to do is join their Birthday Fellowship and purchase on regular-priced admission. Freebies started Jan. 1 and end Dec. 31, 2010. More information at Medieval Times.com.
Quiznos Sub is offering a free bag of chips and bottled drink when you buy a regular or large sub. Click here for the printable coupon.
When was the last time you saw an 80s classic? Well, that's too long. Head over to the Belmont Hotel on the west side of downtown Dallas and watch the movie poolside, under the stars. Dive-in movies begin at dusk and are free of charge. The Belmont will show a different movie each week ... go here for more information.
Looking for costumes for less? Check out BuyCostumes.com here. Some costumes sell for under $10.
---
Do you have a deal or discount to share? E-mail your tip to us at newstips@nbcdfw.com.
For more deals and discounts check out our Penny Pinching Blog.
Follow us on Twitter @frankheinziv, @NBC_DFW, @dfwaroundtown